Christopher Steele, author of salacious dossier, calls on Americans to "speak out" against Trump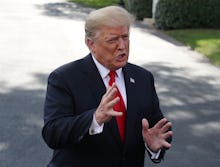 Christopher Steele, the former British spy who authored the explosive dossier alleging conspiracy between the Trump campaign and the Kremlin, criticized President Donald Trump on Wednesday in his first public statement in a year and a half.
In an email to Vanity Fair after the magazine included him on its New Establishment List on Oct. 3, the ex-MI6 agent called on Americans and the media to "speak out" against the "distorted and one-sided" Trump administration.
"In these strange and troubling times, it is hard to speak unpalatable truths to power, but I believe we all still have a duty to do so," Steele wrote in an email to Vanity Fair editor Radhika Jones. "I salute those on your list, and otherwise, who have had the courage to speak out over the last year, often at great personal cost."
Steele claimed in his 35-page report that Russian intelligence had been "cultivating, supporting and assisting Trump for at least five years" with the aim of encouraging "splits and divisions in western alliance." The dossier also included the salacious claim that Russian intelligence have a video of Trump in a Moscow hotel room with "prostitutes perform[ing] a 'golden showers' (urination) show in front of him."
Trump dismissed the report as "FAKE NEWS" when it first surfaced in the media in January 2017 — less than two weeks before his inauguration.
The president has since described Steele as a "lowlife" and the dossier as "corrupt." The president and his allies have also attacked special counsel Robert Mueller's Russia investigation as having been too reliant on the disputed dossier, even though the probe was not triggered by the Steele report, but by drunken comments former Trump campaign aide George Papadopoulos made to an Australian diplomat in 2016.
Trump routinely bashes the Mueller probe as a politically motivated "witch hunt."
In his statement to Vanity Fair, Steele suggested that Trump and his administration have "distorted" reality and called on the media to "[hold] it accountable."
"At a time when governance is so distorted and one-sided, as I believe it currently is in the United States, the media has a key role to play in holding it accountable," Steele said.