Christine Blasey Ford nominated for distinguished alumna award after Kavanaugh testimony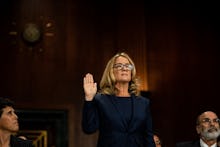 Members of the University of North Carolina community are pushing for Christine Blasey Ford to receive the university's distinguished alumna award, after the psychology professor drew national scrutiny for coming forward with sexual assault allegations against now-U.S. Supreme Court Justice Brett Kavanaugh.
UNC English professor Jennifer Ho nominated Ford for the award, which the university bestows on alumni who have "made an outstanding contribution to humanity in any walk of life." Ho described Ford's "bravery" in coming forward as "something that was extraordinary in how ordinary it was" in her nomination letter, saying that the award would demonstrate that "UNC believes survivors of sexual assault" and "recognize[s] the inordinate amount of courage it took for [Ford] to take the moral and ethical stand that she did" by testifying against Kavanaugh.
"This letter nominating Dr. Blasey Ford is not about partisan politics: it is about recognizing that the simple act of speaking one's truth, especially when that truth involves sexual assault, is an act of bravery," Ho wrote. "We live in a society that does not believe women. The many indignities that women experience in their day-to-day lives is proof of this, as is the continued attacks on Dr. Blasey Ford after her testimony."
"There were many lessons that we learned from Dr. Blasey Ford's testimony on Sept. 27, 2018, and one of the most important ones was that any one of us can be extraordinary through the ordinary act of speaking our truth," Ho continued. "Her accomplishment is to be an alumna of integrity, who despite great personal cost to herself and her family told her story of her sexual assault and emboldened others to also find the courage to speak out against injustice."
"Especially for those of us who are survivors of sexual assault or who know others who are survivors (which means all of us), Dr. Blasey Ford's testimony was an extreme act of bravery, making her a more than worthy recipient to be recognized as a distinguished alumna."
Ho's nomination of Ford comes days after Kavanaugh ascended to the Supreme Court over the widespread objections of women, many of whom were inspired to share their own stories of sexual assault after Ford came forward with allegations that Kavanaugh forced himself on her in an act of attempted rape in high school. Ford's decision to go public with her allegations appears to have come at great personal expense; the professor's attorneys told NBC News Sunday Ford is still receiving "unending" death threats and it will be "quite some time" before she and her family are able to return home.
UNC staff, students and alumni can add their names to the letter in support of Ford's nomination through Saturday via a Google form. Ho told CNN Tuesday that the letter had so far received over 2,400 signatures — though some were obviously fake — and she had received hate mail and a call to the school chancellor calling for her termination for her decision to nominate Ford.
"I did this because I believe she told the truth," Ho told CNN. "In another life, Blasey Ford could have shared this information with one of her faculty."
"I did this for the students," Ho added.