Taylor Swift is raking in album sales since she endorsed Democrats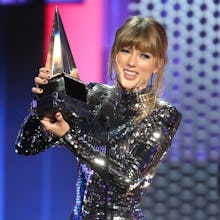 After years of staying silent about politics, singer Taylor Swift is finally using her voice. On Sunday, she posted a fuzzy photo on Instagram of herself sitting on what looks like a bed, and in the long caption below she encouraged her 112 million followers to register to vote and learn more about the candidates in their local elections.
Then she explained whom she'd be voting for in her own state of Tennessee: Swift decried the record of Republican incumbent Rep. Marsha Blackburn, who is running for Senate, and instead endorsed former Tennessee Gov. Phil Bredesen for the seat. She also expressed support for incumbent Rep. Jim Cooper in the race for Tennessee's 5th District.
"As much as I have in the past and would like to continue voting for women in office, I cannot support Marsha Blackburn," Swift wrote. "Her voting record in Congress appalls and terrifies me. Please, please educate yourself on the candidates running in your state and vote based on who most closely represents your values."
It was a major departure for the singer, who has previously been criticized for not using her considerable power to reach young fans and influence voters in states both red and blue. And the pop star's clearly not done: On Tuesday night, she again mentioned voting while accepting an artist of the year trophy at the American Music Awards.
"This award and every single award given out tonight were voted on by the people, and you know what else is voted on by the people?" Swift asked. "It is the midterm elections on Nov. 6. Get out and vote. I love you guys."
Swift's Instagram post came just one day after the American leg of her Reputation tour came to an end, prompting speculation she got political at a time when the endorsements wouldn't impact ticket sales or provoke protests outside stadiums. While she certainly hasn't admitted that such timing was a factor — Tuesday's deadline to register in Tennessee and many other states is a less cynical motivation — she needn't have worried. Getting political is actually helping her bottom line.
In the hours and now days since her post, four of Swift's albums have climbed back up the iTunes album sales charts. Reputation, which was released 11 months ago, was ranked No. 32 on Saturday, moved up to No. 25 the day of her Instagram post and hit No. 14 by Tuesday afternoon, as reported by a site that maintains records of album sales on iTunes. As W magazine noted, her album 1989 re-entered the top 100 on Monday and hit No. 74 by Tuesday. Another chart tracker, Pop Vortex, listed Wednesday that two more of her albums are currently on iTunes' top 200: 2012's Red was at No. 129 and 2008's Fearless was at No. 130 as of press time.
According to data provided to Mic from Nielsen, audio streams of Swift's music hit 4.82 million Sunday and 5.55 million Monday. However, a Nielsen spokesperson said in an email that historically, Sunday is the day of the week with the lowest streaming activity. The highest streaming total observed last week was Friday, which had 5.9 million streams.
While a less official measure, the buzz online indicates fans have been listening to Swift's music either in support of this move or because their love for it was renewed.
Her album sales aren't the only impressive number Swift has pulled in since her post. Hours after she uploaded, Vote.org reported a huge surge in registrations around the country. In Tennessee, the same amount of people registered between Sunday and noon Tuesday as between May and September. More than 166,000 people across the country submitted new registrations in that time frame, 42% of whom were between the ages of 18 and 24, the site told the New York Times.
And the candidates are seeing a direct boost, too.
"Our campaign has many new friends, including a handful of new donors," Marianna Weaver, a spokesperson for Cooper's campaign, said in an email. "We are ecstatic that she inspired so many new registrations."
Though Swift's classification as a country artist seems far in the rearview at this point, at times it seemed she may have stayed silent about politics so as to not offend her conservative fans. Who can forget the fury that met the Dixie Chicks after lead singer Natalie Maines criticized then-President George W. Bush in 2003? The pressure for country artists to remain either neutral or conservative continued: Musician Eric Church was blasted after he discussed the October 2017 mass shooting in Las Vegas, saying in a July interview with Rolling Stone, "I blame the lobbyists. And the biggest in the gun world is the NRA."
Meanwhile, some Christian extremists have suggested Carrie Underwood should be banned from Christian events because she supports same-sex marriage.
With less than a month until the 2018 midterms, it's unknown whether Swift's political statements are a one-time outburst or the signal of a new tone for the artist. At the very least, she's learned that speaking her mind can actually be good for business.