The 2019 Met Gala, co-chaired by Lady Gaga and Serena Williams, will focus on camp aesthetic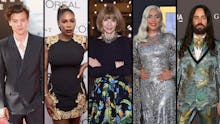 The Costume Institute's Spring 2019 exhibition, which will kick off with the 2019 Met Gala, has announced its theme and its co-chairs.
The five co-chairs will include Lady Gaga, Serena Williams, Harry Styles, Anna Wintour and Gucci creative director Alessandro Michele. They succeed Amal Clooney, Rihanna and Donatella Versace, who co-chaired the 2018 Met Gala.
The theme will be camp aesthetic in fashion following 2018's somewhat controversial "Catholic imagination" gala and exhibition theme.
"Camp's disruptive nature and subversion of modern aesthetic values has often been trivialized, but this exhibition will reveal its profound influence on both high art and popular culture," Max Hollein, director of the Met, said in a statement. "By tracing its evolution and highlighting its defining elements, the show will embody the ironic sensibilities of this audacious style, challenge conventional understandings of beauty and taste and establish the critical role this important genre has played in the history of art and fashion."
The theme is an exciting one, one that allows for a necessary dose of levity within the pomp and circumstance. However, camp as a genre can be difficult both to identify and define, so trouble could ensue. As Susan Sontag wrote in "Notes On 'Camp,'" first published in 1964, "The ultimate camp statement: It's good because it's awful... Of course, one can't always say that. Only under certain conditions."
And then there's what could be a more blatant misinterpretation of the theme, seen below:
Regardless, there's now over six months before the event, and there's plenty of time for celebrities and their stylists to read up on camp and do their best to both look great and be on theme.
That's something that through and through has proven to be, at times, a struggle.