BrettKavanaugh.com has been purchased and made into a resource for sexual assault survivors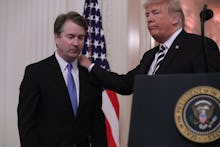 A nonpartisan group seeking transparency from the Supreme Court purchased the domain BrettKavanaugh.com and filled it with resources for sexual assault survivors rather than information on the new Supreme Court justice's biography.
"Three years ago, I bought a handful of URLs that I thought might be useful in any forthcoming Supreme Court confirmation battles. Included were BrettKavanaugh.com, .org and .net," Gabe Roth, the executive director of the group Fix the Court, said in a statement on Tuesday. "Today I am redirecting those three to a landing page with resources for victims of sexual assault."
Roth's statement came a day after President Donald Trump and other GOP lawmakers and Fox News hosts celebrated Kavanaugh's confirmation to the court at a ceremonial swearing-in at the White House.
Trump said at the ceremonial swearing-in that Kavanaugh had been "proven innocent" of the sexual assault allegations levied against him by Palo Alto University professor Christine Blasey Ford and two other women — an untrue statement.
"Watching last night's White House event and listening to the president again cast doubt on [the] veracity of Dr. Ford's claims, while not hearing a word of contrition from the newest justice, was difficult for many Americans who have experienced sexual misconduct firsthand," Roth said. "Fix the Court stands with you. We believe you, and we support you. And if you seek additional resources, you can go to BrettKavanaugh.com."