Ted Cruz declines to participate in televised town hall after Beto O'Rourke turns down debate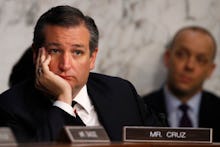 When Beto O'Rourke takes the stage for a televised CNN town hall in McAllen, Texas, later in October, he will be the only candidate on the stage.
Despite a similar offer extended to incumbent Texas Sen. Ted Cruz, CNN announced in a statement that the Republican's camp had declined to participate.
"Sen. Ted Cruz's campaign initially accepted CNN's invitation to participate" but has since declined, the network said in an announcement.
Cruz's campaign manager Jeff Roe said on Twitter on Tuesday that the senator had only declined the invitation to participate in the town hall after O'Rourke's camp had turned down an offer to debate Cruz on the network.
"CNN subsequently offered back to back town halls, in which we are unable to participate," Roe wrote in a tweet.
Instead, O'Rourke will take the stage alone at the McAllen Performing Arts Center in the Rio Grande Valley at 9 p.m. Central on Oct. 18, where CNN chief political correspondent Dana Bash will moderate the town hall.
Mic has reached out to Cruz's spokesperson for comment but did not immediately hear back.
The race between Cruz and O'Rourke has transcended the Texas political sphere and exploded onto the national stage, serving as a proxy for the larger, acrimonious battle happening across the United States as Democrats and Republicans battle for control of the House.
The two politicians have already squared off in one debate ahead of the Nov. 6 midterm elections. That matchup, which was held on Sept. 21, saw the candidates spar over criminal justice reform. O'Rourke said at that event that he's "open to abolishing" U.S. Immigration and Customs Enforcement, a platform embraced by some of the most progressive members of the Democratic Party.
CNN will also air debates between candidates in other races that have garnered national attention in the months leading up to the midterms: On Oct. 16, Sen. Bill Nelson (D-Fla.) and GOP challenger Gov. Rick Scott will go toe to toe in their race to take the Florida Senate. And on Oct. 21, Florida gubernatorial candidates former Rep. Ron DeSantis, a Republican, and Tallahassee Mayor and Democrat Andrew Gillum will spar publicly for an hour.