Today in Trump's America: Trump mocks the #MeToo movement at Pennsylvania rally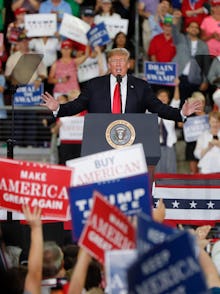 Good morning and happy Thursday from your Navigating Trump's America guide, Emily Singer. We here at Mic send our thoughts to the Florida Panhandle, where authorities and residents are assessing damage and beginning the long road to recovery after Hurricane Michael. President Trump is poised to visit the storm-ravaged area sometime next week. Now, lets get on with the show.
Here's what's happening in Trump's America:
• Trump will stay put at the White House on Thursday after a few days of hitting the campaign trail.
About last night: Trump mocks the #MeToo movement at a Pennsylvania rally
Trump hit the campaign trail Wednesday night in Pennsylvania, breaking the unspoken rules of steering clear of politics in the midst of a hurricane.
"Couldn't let these great people down. They have been lined up since last night - see you soon Pennsylvania!" Trump tweeted as he headed to Erie, Pennsylvania.
Of course, there's almost always a years-old Trump tweet for every situation the president finds himself in. For example, he once criticized former President Barack Obama for campaigning in the aftermath of a major storm.
"Yesterday Obama campaigned with JayZ & Springsteen while Hurricane Sandy victims across NY & NJ are still decimated by Sandy," Trump tweeted on 2012. "Wrong!"
At the rally, Trump did his usual shtick of bragging about his 2016 presidential win. But this time, he tweaked it a bit to mock the #MeToo movement — which has energized women ahead of the 2018 midterms.
"Pennsylvania hasn't been won for many years by Republicans, but every Republican thinks they're going to win Pennsylvania," Trump said. "I used an expression — you know, there's an expression, but under the rules of #MeToo, I'm not allowed to use that expression anymore. I can't do it."
"It's the person that got away," Trump continued.
"See, in the old days, it was a little different," he said, as the crowd cheered him on, with one rally goer saying, "do it anyway."
"I would do it, except for these people up there," he went on, pointing to the media at the rally. "They would say, did you hear what President Trump said?"
Trump never said what the expression he wanted to use was.
"So there is an expression, but we'll change the expression: Pennsylvania was always the person who got away; that's pretty good, right, the person that got away?" Trump said.
This is not the first time he's mocked the #MeToo movement. At a campaign rally on Oct. 4 in Minnesota, he made fun of former Sen. Al Franken, who resigned after photos surfaced of him appearing to mimic touching a woman's breasts as she slept, followed by more women who came forward to accuse him of harassment.
"Boy, did he fold up like a wet rag, huh? Man. Man. He was gone so fast, OK?" Trump said of Franken.
"Oh, he did something," Trump continued. "'Oh, oh, oh, I resign. I quit.'"
Today in Trump's America: Can stocks rebound after massive decline on Wednesday?
The Dow had its third-largest one-day point drop on Wednesday, with it falling nearly 832 points.
Premarket numbers suggest the market will open lower again on Thursday.
Trump, who has touted the rising stock market as one of his accomplishments in office, blamed the Federal Reserve for the stock market's decline.
"I think the Fed is making a mistake. They're so tight. I think the Fed has gone crazy," he told reporters Wednesday before leaving for his rally in Pennsylvania.
"It's a correction that we've been waiting for for a long time," Trump said, adding, "I really disagree with what the Fed is doing."
The Federal Reserve has been steadily increasing interest rates as the economy improves. Presidents historically steer clear of trying to influence the Federal Reserve, and Trump's decision to publicly criticize its policymaking is "nearly without precedent in U.S. history," CNBC reported over the summer.
And the rest...
Voter suppression: Georgia Secretary of State Brian Kemp, the Republican nominee for governor in the Peach State, is freezing tens of thousands of voter registration forms ahead of the 2018 election, claiming the forms do not meet the state's "exact match" verification process.
For example, I legally have a middle initial, C. If I accidentally left the C off my voter registration form in Georgia, Kemp would have the right to toss out my registration.
Kemp is under fire for the move, however, because the Associated Press reports 70% of the applications he's freezing are from black residents of the state — a population that overwhelmingly votes Democratic. This comes as he faces off with Stacey Abrams, a black Democrat who could be the first black woman governor.
Saudi Arabia personally ordered hit on journalist in Turkey: The Washington Post reported Wednesday night the crown prince of Saudi Arabia personally ordered the attack on Jamal Khashoggi, the dissident and Post contributor who disappeared after entering the Saudi Consulate in Turkey last week. Khashoggi was reportedly murdered and dismembered by a team of Saudi security officials upon entering the consulate. The incident threatens the United States' relationship with Saudi Arabia. Since taking office, Trump has forged a relationship with the Saudis, hoping the country could facilitate an Israeli-Palestinian peace agreement.
Correction: Yesterday's edition of Navigating Trump's America mischaracterized Michael Bloomberg's political affiliation history. He went from Democrat to Republican to independent before becoming a Democrat again.
Want to receive this as a daily email in your inbox? Subscribe here.