Alec Baldwin gives a cringey new interview: "Black people love me"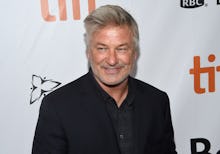 Actor Alec Baldwin has been lauded for skewering President Donald Trump in recurring appearances on Saturday Night Live (he just recently was nominated for another Emmy for the role, after winning in 2017), but in a new interview with the Hollywood Reporter, Baldwin comes off as almost Trumpian himself. In fact, the interview has some people on the internet wondering if Baldwin is trying out some method acting.
The wide-ranging conversation covers a host of topics: Baldwin's Broadway ambitions, his endorsement of Democratic candidates, his new memoir and his personal relationships with his wife and famous brothers. But it's his comments about playing Trump that have people saying, "Huh?"
First, he seemed to suggest that he had thought about quitting the parody, but, he said, "People will go, 'Don't you dare give that up, we need you.' Like I've gotten people through something in our nation's history."
Then Baldwin said just how much black people — yes, black people in particular — love his Trump impression. "I don't know how to say this and I don't want to get it wrong either, because everything is a minefield of bombs going off, but ever since I played Trump, black people love me," he told the outlet.
"They love me. Everywhere I go, black people go crazy. I think it's because they're most afraid of Trump. I'm not going to paint every African-American person with the same brush, but a significant number of them are sitting there going, 'This is going to be bad for black folks.'"
It was those comments that seemed to inspire the most backlash on Twitter, but Baldwin also spoke about the #MeToo Movement — and he seems to have some mixed feelings. "It's not a witch hunt because a witch hunt indicates that there is very little truth, if none at all, and there is a lot of truth here," he said at one point. "But what worries me is that this is a fire that needs constant kindling."
And then later Baldwin brought up fellow celeb and #MeToo activist Rose McGowan, saying of McGowan, "You don't stand much of a chance of getting where you want to be if you're going to arbitrarily alienate and excoriate innocent men. … It's like all of a sudden, she's one of the Crips — the head of her own gang."
Will any of these comments inspire a public apology from Baldwin and land him in Mic's very own weekly apology round-up, "Who's Sorry This Week?" You'll just have to check back on Friday to find out.