'Queer Eye' star Antoni Porowski's restaurant offers a healthy twist on Polish foods he ate as a kid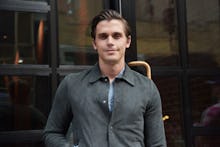 Aurora Rose/Variety/Shutterstock
In October, Antoni Porowski, Queer Eye's resident food expert and heartthrob with unrelenting bedroom eyes, opened his first restaurant — Village Den — a rebrand of the West Village institution, which closed its doors in May after nearly 36 years.
Rather than offer staples like bacon and eggs, Porowski's "fast-casual" concept aims to reinvent the diner as we know it, with a salad-heavy menu and breakfast smoothies with buzzy boosters like medium-chain triglyceride oils and collagen.
In an email interview with Mic, the Queer Eye star dished about his latest venture into the restaurant world — and why change isn't always a bad thing.
(Editor's note: The following interview has been edited and condensed for clarity.)
Mic: How did your own diet inform the Village Den's menu? And what are some of your favorite dishes?
Antoni Porowski: I tend to lean keto when it comes to weekday eating, so there are lots of options in that diet group. That said, [the restaurant] offers vegan, vegetarian, pescatarian and other types as well. The cabbage rolls are a personal favorite, due in large part to their nostalgic element. They're a Polish staple that I've evolved, swapping rice for grated cauliflower and opting for ground turkey instead of pork. The tomato-y sauce is acidic and flavorful. They're great on a rainy day or after the gym when you want a home-cooked-style meal.
Did you have a personal connection to the former Village Den?
AP: I've had many a club sandwich and hot black coffees there and loved the old mural. It was an institution.
How would you respond to longstanding Village Den fans who might have initial trepidation toward a rebranding of the restaurant?
AP: Change is a scary thing. I can relate to this personally based on the exponential growth curve I've experienced since Queer Eye launched. Part of me wants to grasp on to the "old" parts of my life as best as I can. I also love learning and trying new things. It's a conflict we've all experienced personally in our own growth as individuals as much as with our favorite record shops, cafes, bookstores and, well, restaurants. The previous Village Den was no longer sustainable. Being cognizant of that, we wanted to ensure we continued to respect the space's place as exuding an image and experience of community and welcomeness. I think we've accomplished this and will continue to as long as locals and visitors alike let us.
Who do you envision eating at the restaurant?
AP: Locals will see it as consistently consistent, offering dishes they'll come back for time and again, while visitors and tourists will experience what New York and we are all about — a love for good, clean food and some damn good music.
Have any of your Queer Eye co-stars visited yet?
AP: Jonathan Van Ness and Tan [France] attended a soft open and Tan has been back since. He actually just filmed a commercial there recently and came by this past weekend to show his support for yours truly and the Thai chicken bowl. And the donut. He loves the donut.
If you had to eat one dish for the rest of your life, what would it be and why?
AP: I have to pick?! I guess it would be the garden bowl. It's a wonderful mix of all plant-based components to which I'd add some juicy pulled chicken, of course.
Oct. 11, 2018 10:34 a.m.: This story has been updated to remove a reference to calorie counts on Village Den's menus. The calorie counts were on an early version of the menu.