Parents create "R Kelly abuse hotline" to give accusers a voice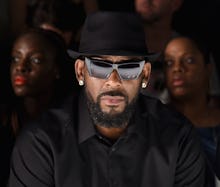 Timothy Savage and Jonjelyn Savage, who have said their daughter Joycelyn Savage is "being held against her will" in R. Kelly's alleged sex cult, have created what they call an "abuse hotline" for victims to report their encounters with the R&B singer.
In the past two decades, several women have accused Kelly of sexual abuse, and the nature of the allegations mirror common sex trafficking behaviors, according to experts. Kelly has denied these allegations, including in a 19-minute song he released in July, as there was mounting support for the #MuteRKelly movement and people calling to end financial support of the singer.
The Savages' public fight against the Pied Piper began when they accused Kelly of essentially brainwashing and holding their daughter captive in a rental home, BuzzFeed first reported in July 2017. The Savages said they haven't seen their daughter since December 2016 and last spoke to her on the phone in December 2017. In early May, Joycelyn denied the allegations, telling TMZ, "All of that is false accusations. People talk all the time. It's just rumors. ... [People] are making things up to get money." On May 23, Timothy Savage filed a police complaint stating Kelly's manager James Mason threatened to kill him and harm his family.
The Savages told Mic on Wednesday that since coming forward with their allegations, they have been in contact with at least 80 women or parents regarding allegations against Kelly; most of them are afraid to speak out because of his fame. So the Savages launched the "R. Kelly abuse hotline" on Tuesday to encourage others to break their silence around these sexual misconduct allegations.
"One reason I feel that he's been getting away with a lot of the allegations for the last two decades is because people feel he has money and power and they don't have the resources to fight him," Jonjelyn Savage said in a phone interview on Wednesday.
The Savages said one of the victims they advised was Faith Rodgers, who filed a lawsuit in May accusing Kelly of "mentally, sexually and verbally" abusing her and infecting her with herpes, without disclosing he had the sexually transmitted infection, CBS News reported. Timothy Savage said Rodgers reached out to him and his wife before she went public with her allegations.
"She was afraid to go to her parents and we treated her like she was our own daughter," Timothy Savage said. "We told her, 'Go to the doctor, get tested and then once the test comes back, if you need us to help you talk to your parents, we will.'"
Through the hotline, the Savages said they want to help guide others like Rodgers on reporting their allegations to authorities and seeking counseling and medical attention. As more people come forward, the Savages said they want to build a case against Kelly to hold him accountable for his behaviors.
The hotline allows callers to leave a message detailing their allegations and offering tips. Jonjelyn Savage said she is screening these messages to filter out prank calls or calls from fans defending Kelly. From there, she said she reviews the messages and reaches out to individuals who have possible leads that could be further verified by authorities. She added that a former assistant to Kelly, who has booked travel arrangements for women the singer was involved with, is also helping them add credibility to the allegations.
Moving forward, the Savages are continuing to spread the word about the allegations against Kelly via their YouTube page and social media. They also created the campaign #FriendTellFriends to encourage victims to tell their loved ones if they have experienced sexual or domestic violence.
"There's no age limit on being mind-controlled, drugged, brainwashed, there's no age limit on that," Jonjelyn Savage said. "So the more we have more young ladies or even men, or parents that are willing to speak out, the more we think it can help our daughter as well as helping other victims."