Is this inflatable jumpsuit the future of travel wear?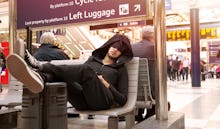 At plain sight, it's a relatively nondescript onesie. But upon further examination, you'll notice one key feature: a fully inflatable hood and neck pillow. It's the key feature in what creators Thomas Adams, Henrik Nørstrud and Knut Gresvig hope will be a recipe for success.
The unisex travel jumpsuit, from the brand Onepiece, boasts over 15 features alongside the inflatable hood and neck pillow, including a pulldown snooze mask and rear zipper — "for easy bathroom breaks."
"None of us had a fashion background or went to fashion school, it was just an idea," Adams said in an interview. But if Adams' own history is any indicator, it's an idea that might have mass appeal.
Adams, born and raised in Oslo, Norway, began his first venture in design in 2004, with a belt buckle e-commerce site that he ran from his parents' basement. From there, he decided to expand his business to more products, including trucker hats, sunglasses and accessories. Eventually he created the first iteration of the Onepiece in 2009, which became popular among celebrities such as Ariana Grande, Beyoncé and Justin Bieber.
But then, three years ago while wearing his original jumpsuit, opportunity for evolution came knocking.
"I was on a flight to LA from Oslo and there was a lot of turbulence," Adams recalled in an interview. "I actually hit my head on the side window, it was that bad. I thought, 'damn, this hood should have been inflatable'. And that's when we thought of the possibility to actually inflate the hood."
That moment became the start of creating the inflatable travel jumpsuit.
If this seems like merely a gag gift, similar to the RompHim, Adams said: "Well that's what everyone in Norway said when we launched and started selling adult onesies in 2009. 'Why would you buy this?' Twelve months later, we had sold to 2% of the population in Norway and sold onesies to adults for more than $120 million internationally."
Adams admitted that the product might seem to be gimmicky or a novelty to some, but he promises it's the result of listening to customer feedback over the years.
"Stuff like the RExS [rear-exit solution] has answered the time-old question at Onepiece of 'How do you go to the bathroom in this thing?,' or I can't count the amount of times I've met people and they were like, 'It would be super cool to have a built-in sleeping mask.' We've listened, and this jumpsuit is a product of everyone's wishes built into one."
The product, which will be featured on Kickstarter beginning on Sunday, will retail for $269, but early-bird buyers are being offered the Onepiece for $79.