Mic Daily: The effect of Taylor Swift's activism on her album sales — and other news of the day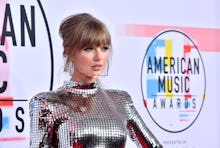 Good evening, folks. Congratulations: You made it over the week's hump.
As always, I'm here to share five Mic stories from today that caught my eye. We've got a nice preview of a few midterm races you probably haven't been paying attention to — that you absolutely should — as well as a guide to this year's likely Oscar contenders. (Yes, it's that time of year already.)
And, yes, we also have a quick write-up of President Donald Trump's recent baffling, sigh-inducing comments on the United Nations' climate change report, in case you haven't caught wind of that yet.
Let's dive in, shall we?
Speaking to reporters Tuesday outside the White House, President Donald Trump downplayed a devastating report from the Intergovernmental Panel on Climate Change that said we could be in for major environmental catastrophe in just a couple decades.
"I want to look at who drew it. You know, which group drew it," Trump said. "Because I can give you reports that are fabulous, and I can give you reports that aren't so good."
Oscars season is nearly upon us, and that means it's time to go see a bunch of artsy movies you wouldn't otherwise so you don't feel left out — I mean, because they look great.
But really, this year's slate of Oscar contenders is particularly strong, featuring films that are already making a splash — I'm looking at you, A Star Is Born — and some that have yet to be released.
Everyone's paying attention to the big, extra-swingy races ahead of next month's midterms, but there are a handful that haven't yielded quite as many eyeballs. However, they could, given the right circumstances, end up being quite pivotal overall.
If an unsuspecting person decides they want to learn more about new Supreme Court Associate Justice Brett Kavanaugh, they might try to visit his personal website. BrettKavanaugh.com seems like a good bet, right?
Not so much. That particular URL — and its .org and .net variations — have been taken over by a nonpartisan group and filled with resources for sexual assault survivors.
In case you hadn't heard, pop superstar Taylor Swift recently broke her notorious silence regarding her political beliefs, using Instagram to urge her followers to register to vote in the 2018 midterms. Specifically, she said she believes "in the fight for LGBTQ rights, and that any form of discrimination based on sexual orientation or gender is WRONG."
Not only did voter registration reportedly soar after Swift took a stand, but so did her album sales.
Mic Daily is Mic's newsletter that cuts through the noise and lands in your inbox every weekday. We carefully curate each edition to send you a cross section of our most vital stories of the day.