Hype Daily: Karlie Kloss and Christian Siriano join 'Project Runway' and more entertainment news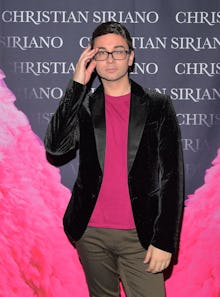 Good morning readers, time to open the gates and seize the day! Let's get you all fired up with the latest news from the entertainment world.
Karlie Kloss and Christian Siriano join Bravo's Project Runway
News broke on Wednesday that model Karlie Kloss and designer Christian Siriano are joining the iconic fashion-competition reality show Project Runway. Kloss, who will also executive produce, takes over hosting duties from Heidi Klum, and Siriano, a Project Runway alum himself, will be the new "mentor," taking over from Tim Gunn, the Hollywood Reporter reported on Wednesday.
Klum and Gunn recently announced they were leaving the show for a deal with Amazon. Also joining Project Runway are designer Brandon Maxwell and former Teen Vogue editor-in-chief Elaine Welteroth. Let's see if they can "make it work" with the new crew when the show returns in 2019. Get it?
Mia Farrow says she doesn't care about Woody Allen anymore
Actor Mia Farrow spoke about her ex, alleged abuser Woody Allen, in a new interview with Elle published Wednesday. And you know what? She said, "I reached a place many years ago where I just don't care about him." Wow. Farrow also spoke about her journalist son Ronan Farrow's work on the #MeToo movement, her own experiences with sexual harassment and her film career and humanitarian work.
And, weirdly, she says it was "wonderful working with Roman Polanski," who pled guilty to statutory rape and has had multiple other allegations made against him. But would she work with him again? "I don't think I would," she told Elle.
They're making a Playmobil movie, for some reason
You know Playmobil, those little plastic toys with the hook-shaped hands and elaborate set pieces? Well, that's becoming a movie, somehow. Deadline reported on Wednesday that Playmobil: The Movie is in the works and it already has a bunch of voice actors attached.
The flick will follow a girl who has to rescue her brother after he disappears into the animated world of Playmobil, and Daniel Radcliffe, Jim Gaffigan and singers Meghan Trainor and Adam Lambert are all signed on to voice characters. That's right, Harry Potter is going to be in the Playmobil movie.
Real Housewives husband Joe Giudice is being deported to Italy
Joe Giudice, the husband of Real Housewives of New Jersey star Teresa Giudice (and a star of the show in his own right, apparently) is being deported to Italy, Entertainment Weekly reported on Wednesday. Joe Giudice is currently serving a prison sentence for mail, wire and bankruptcy fraud, and was ordered to be deported once that sentence is up, according to EW.
But it seems like his wife Teresa, who also served time for fraud, isn't too concerned for their future. According to EW, on a Real Housewives reunion show she said, "I mean, Italy's a beautiful place to live. ... I wouldn't mind, you know, I'm just saying. Listen, whatever God has planned for me, that's what's going to happen. I will embrace it the best I can." Well, enjoy Italy you two!
Put this on your radar: Halloween
Horror fans are probably already psyched for the new Halloween movie, out Oct. 19. It's a direct follow-up to the 1978 slasher film of the same name (so ignore all those bad sequels, I guess?) and stars Jamie Lee Curtis, up against killer Michael Myers 40 years after their first encounter.
It's getting good buzz — as of Thursday morning, the movie had an 87% rating on Rotten Tomatoes and a bunch of praise from critics. So go see it! Or, if you're like me, read the whole plot on the internet and then go see it!
This has been Hype Daily, Mic's morning entertainment roundup. It's everything you need to catch up on in the entertainment world and what to look forward to today. Want to receive this as a daily email in your inbox? Subscribe here.