Trump's new law protects travelers with disabilities — but advocates worry it might be meaningless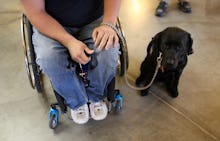 President Donald Trump signed a deal Oct. 5 to fund the Federal Aviation Administration and authorize a number of other airline regulations that benefit consumers. These new rules include directing the FAA to set regulations on airline seat sizes and improved communication protocols with passengers regarding delays. The legislation also allows for the development of an "Airline Passengers with Disabilities Bill of Rights" aimed at providing protections for travelers with disabilities.
While there's no hard deadline for creation of the bill of rights, the mandate reportedly requires the FAA to establish a final rule for service animals, provide protocols for screening passengers with disabilities and study the feasibility of seating accommodations for travelers who use wheelchairs.
Some disability rights advocates, however, argue the legislation is actually a passive approach to real change, without any substantial enforcement of laws aimed at inclusivity of individuals with disabilities. In fact, despite legislation like the Americans with Disabilities Act and announced commitments to accessibility, a 2015 study found that nearly 81% of New York City subways are inaccessible to individuals who use wheelchairs or walkers.
"Access either works or it doesn't," Janice Lintz, CEO of Hearing Access & Innovations Inc., said in a phone interview. "And feel-good bills are a waste of time. I want bills that really work."
"Solve the problem," Lintz added. "Don't just create another obstacle."
John Morris, founder of WheelchairTravel.org, said few individuals with disabilities even know the protections available to them during air travel — and that a bill of rights, unfortunately, may not change that.
Disabilities rights acts "are meaningless" according to one disability rights advocate
The Air Carrier Access Act was created in 1986 to prohibit air carriers from discriminating against people with disabilities. The ADA, enacted in 1990, also prohibited discrimination against those with disabilities "in all areas of public life" and attempted to ensure equal access to transportation and employment opportunities. But a frequent issue among these acts is a lack of clear language, according to Morris.
"The directives of the ADA are hundreds of pages long," Morris said. "I think this is a problem with regulation and legislation. Quite amazingly, I have many readers that don't even know that when a wheelchair is damaged [by an airline], the airline is responsible for paying [for] it."
Similarly, Lintz said a lack of enforcement means businesses won't always comply, which she alleged would be the case even if the language was more easy for consumers to understand.
"Unlike the health department that rates restaurants and goes around checking that they're under code, there is no one to confirm that people are complying," Lintz said. "When you don't have funding and you don't have compliance, it's meaningless."
This often translates into abuse of the ADA by those without disabilities, Lintz said, referencing "fake" service animals. The ADA stipulates that state and local governments, businesses and nonprofits must make "reasonable modifications" to accommodate people with disabilities, a policy under which service animals fall. However, a lack of guidance regarding the registration of service animals and rules preventing businesses from asking disabled individuals for documentation mean some people try to take advantage of those allowances, Lintz added.
"As these rules are articulated, there has to be a way to make sure there's no abuse," she said. "We've seen that with emotional service animals, with an array of insane animals coming onto planes. From squirrels to llamas, we've got the whole Noah's Ark."
According to Morris, the only enforcement that exists puts the onus on individuals with disabilities to submit complaints to the Department of Transportation. According to the Bureau of Transportation Statistics, the Department of Transportation received 66 disability-related complaints in May, all of which are reportedly investigated. But Morris said the complaints rarely result in penalties — although United Airlines was fined $2.75 million in 2016 for disability-related violations and tarmac delays.
Proposed bill of rights should have clear language that encompasses all disabilities, advocates say
For the Airline Passengers with Disabilities Bill of Rights to affect real change, Morris said it should state explicitly which circumstances constitute violations; for example, significant delays regarding the return of wheelchairs to disabled passengers.
"The generally accepted guideline is 30 minutes, but I would like to see that written," he said. "Air carriers often deny that a violation occurred in the hopes that a traveler won't be encouraged to file a complaint, even with lengthy waits of up to an hour."
Although the directive to establish a bill of rights is a good sign, it needs to be inclusive of all individuals with disabilities, Lintz said.
"Someone using a wheelchair is visible, but you can't always tell who has a visual impairment, a cognitive disability or hearing loss because they're invisible disabilities — but the access is just as critical," Lintz said, sharing an example in which an airport failed to notify her daughter, who has hearing loss, of a gate change announced over loudspeakers.
Tools like visual boards or induction loops to help reduce background noise are uncommon in U.S. airports, Lintz said, but creating minimum standards that apply to all airports could help. She also emphasized the importance of having a committee that includes individuals with disabilities to assist in the bill's creation.
"I think this is a great opportunity," she said, "but let's make it the bill it was meant to be and bring on the people who can help it succeed."