How rising-star Democrat Pete Buttigieg wants to change the way we think about politics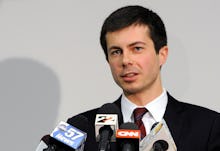 To hear South Bend, Indiana, Mayor Pete Buttigieg tell it, the political division roiling the United States just three weeks ahead of the 2018 midterm elections can't be solely defined along partisan lines. Rather, the discord is a symptom of a growing chasm between candidates and their constituents — and now, starting with the Democratic Party, he wants to fix that.
On Wednesday, Buttigieg — whose last major political venture was a campaign for chair of the Democratic National Committee in 2017 — unveiled a new political PAC called Hitting Home. With the PAC, the Democrat aims to help candidates on the left "reconnect with the moral center of our party" by re-centering political conversations around "the kitchen tables, workplaces and schools where it matters most."
"Hitting Home will work to show, rather than tell, how we can re-ground our politics in a renewed focus on the lives of our friends, neighbors and loved ones," a website for the PAC declares.
Buttigieg is widely considered to be a rising star in the Democratic Party. A Rhodes scholar and veteran of the war in Afghanistan who married his longtime boyfriend during South Bend's pride weekend in June, he laughs off questions about whether he's mulling a potential presidential run in 2020 as "kind of a ritual at this point." But major news outlets haven't treated a potential run as a laughing matter: "Buttigieg gets closer to a 2020 campaign," read one recent headline from Politico and "The first gay president?" mused an op-ed from the New York Times.
"I'm focusing on 2018 and I have a decision to make about running for mayor again, which I'll make by the end of this year," Buttigieg said in an interview. "Once I've worked out what makes sense for South Bend then I'll think about other things."
Although Buttigieg said he isn't planning a major run in 2018, the Hitting Home PAC has endorsed 21 candidates that are running for Congress, many of whom are young, progressive veterans eager to champion the interests of the constituents they hope to one day serve.
"A big point of the PAC is that our politics should take their point of departure from everyday life and lived experience — that one of the reasons there's such a disconnect between the D.C. conversation and the cable news conversation and the coastal conversation is that the conversation's less and less about what happens in everyday life," he said. "To me, politics matters because of what it does in everyday life."
In the time since President Donald Trump assumed the White House, ushering in an age of seemingly ceaseless intrigue with him, the "everyday life" aspect of politics has become a distant notion of how business in Washington is conducted. Trump, Buttigieg argued, is a perfect example of how politics have become less oriented around ideology.
"I think one of the things it shows is that appealing to independents is arguably more important than ever because people are less affiliated with parties than ever," he said. Democrats "need to understand tactically that we need to explain what we're for and why — in terms of values and in terms of concrete, everyday impacts. When we do that well, we will be convincing to red-state swing voters as well as to urban new-generation progressives."
Among the candidates Hitting Home has thrown its support and resources behind are former Obama White House advisers Andy Kim, running for New Jersey's 3rd Congressional District; Lauren Underwood, a first-time congressional candidate for Illinois' 14th District; and Elissa Slotkin, who is running to represent Michigan's 8th Congressional District. Also on the list of endorsements are newcomers such as Sharice Davids, who would be the first out gay member of the Kansas congressional delegation if she wins her race for the state's 3rd District. Davids would also be the first female Native American lawmaker in Washington.
"A lot of these people have very similar stories: You'll have a nurse or a teacher or a parent who's felt let down by the incumbent elected official, looked around and realized they were kind of being let down by the opposition, and just decided to jump in and run," Buttigieg said. "They won a primary and now they're giving someone a run for their money in a traditionally red district."
Underwood's trajectory, for example, closely mirrors that of another political newcomer: Alexandria Ocasio-Cortez, who ran and won her primary in New York's 14th Congressional District in June, unseating longtime incumbent Joe Crowley, after identifying a lack of political representation in the Bronx neighborhood she called home.
These are the types of origin stories that make Buttigieg excited about where the Democratic Party is headed — the ones that make him believe the "most interesting energy in the party right now is actually less ideological and more generational."
"One of the ideas we take on the road is the idea that our politics should be about stories and life in its most immediate sense," Buttigieg said. "The PAC is about trying to practice what I preached when I ran for DNC chair: to look for people, mostly in the middle of the country, mostly from a new generation, largely post-9/11 vets but not exclusively — challengers who hold the promise of changing the ways some of our political institutions look at things."