Brian Kemp is reportedly holding onto 53,000 voter applications — mostly from black people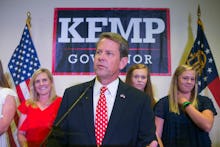 Georgia Secretary of State Brian Kemp's run for the governorship has been marred by allegations that he's led a widespread campaign of voter suppression — and, as it turns out, that's for good reason. On Wednesday, a report from the Associated Press found that Kemp's office currently has some 53,000 applications to register to vote sitting on hold, submitted by voters statewide whose names have been unceremoniously purged from the rolls — and a majority of them are black.
All told, the report found that Kemp's office has successfully canceled more than 1.4 million voter registrations since 2012, with nearly 670,000 of them canceled in 2017 alone.
In a separate report released on Sunday, journalist Greg Palast — who began an investigation into voter suppression in the state for Al-Jazeera and Rolling Stone back in 2014 — broke down the sheer magnitude of those numbers.
"You have to understand: One in 10 Georgia voters were canceled in a single year," Palast told Salon.
Kemp, for his part, has claimed that the efforts to tamp down on voters have been what he refers to as "voter roll maintenance" — a routine culling of the rolls to ensure that voters who have died or moved out of their congressional districts no longer appear on the lists erroneously. But supporters of Stacey Abrams — the black, Democratic woman running a neck-in-neck campaign against Kemp for the governor's office — have been quick to point out that "The Purge," as it's come to be known, has disproportionately affected black Georgians.
Indeed, an AP analysis of the 53,000 voter registrations currently on hold in Kemp's office found that nearly 70% of the applications have come from black voters. For reference, black residents make up about 32% of Georgia's entire population, according to the U.S. census.
During a recent appearance on The Daily Show With Trevor Noah, Abrams —who, if elected, would become America's first black female governor — cried foul over the practices of Kemp's office.
"I have an opponent who is a remarkable architect of voter suppression," she said. "My mission is to tell folks he doesn't matter; you do. Your right to vote is yours, and I'm going to give you a reason to use it."
Abrams has made voting rights a key issue during her time as Georgia's House minority leader. In 2013, she founded the New Georgia Project, an ambitious initiative that seeks to register young and minority voters across the state.
Although the Project has touted impressive numbers over the years, and has reportedly submitted hundreds of thousands of new applications for new voter registrations, Kemp has taken issue with the organization for turning in what he calls shoddy and improperly filled out documents, and for "not adequately train[ing] canvassers to ensure legible, complete forms," according to the AP.