Who's Sorry This Week? Arnold Schwarzenegger, astronaut Scott Kelly and more public apologies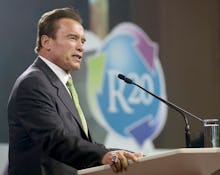 And so we beat on, boats against the current, borne back ceaselessly by our own avoidable screw-ups. Welcome back, loyal readers.
In Who's Sorry This Week? Mic tracks down the most prominent mea culpas from celebrities, companies and other public entities trying to make amends for their various screw-ups.
Here is this week's batch of apologies.
Arnold Schwarzenegger is sorry for how he treated women in the past
In a new interview with Men's Health, bodybuilder-turned-actor-turned-Republican-politician Arnold Schwarzenegger — who has been accused by multiple women of sexual harassment and misconduct — said he feels sorry for the way he's treated women in the past, although he didn't get into specifics.
"Looking back, I stepped over the line several times, and I was the first one to say sorry," Schwarzenegger told the magazine. "I feel bad about it, and I apologize. When I became governor, I wanted to make sure that no one, including me, ever makes this mistake. That's why we took sexual harassment courses, to have a clear understanding, from a legal point of view and also from a regular-behavior point of view, of what is accepted and what is not."
Schwarzenegger almost apologized for calling his political opponents "girlie men" but didn't seem to understand exactly why his comments were offensive.
"I called them girlie men because they weren't willing to take risks," he said. "They were afraid of everything. Politicians in general want to do little things so there's no risk involved. But it was shortsighted. In the long term, it's better to not say that because you want to work with them."
Hmm.
Astronaut Scott Kelly is sorry he said Winston Churchill was the best
NASA astronaut Scott Kelly called former British Prime Minister Winston Churchill "one of the greatest leaders in modern times" in a tweet Sunday, after which many Twitter users pointed out some of the racist things Churchill said (and, apparently, believed).
Kelly tweeted an apology later that day.
"Did not mean to offend by quoting Churchill," he said. "My apologies. I will go and educate myself further on his atrocities, racist views which I do not support. My point was we need to come together as one nation. We are all Americans. That should transcend partisan politics."
The publisher behind EgyptAir's in-flight magazine is sorry for that bizarre Drew Barrymore interview
Excerpts from a truly strange interview with Drew Barrymore that apparently ran in EgyptAir's in-flight magazine began making the rounds on social media in early October. The interview included lines about Barrymore's apparently "unstable relationships" and alleged the actress has been "subconsciously seeking attention and care from a male figure" since her parents' divorce.
The profile was so strange, a lot of people assumed it was fake — but no, it's real, ABC News reported Tuesday. The interview was purportedly translated from English to Arabic and then back into English. Time reported Wednesday that Ahram Advertising Agency, the magazine's publisher, had apologized.
"We apologize for any misunderstanding that might be interpreted as an offense to the great artist," the company said.
It also promised to look into the profile's strange introduction.
"As is generally accepted, the lead is not part of the text of the article," the company added. "It is a product of the editor's creativity produced on the condition that it contains no information that is contrary to the truth. We are about to investigate this by checking thoroughly the source material that the translator depended on to write the interview."
A CNN reporter is sorry for her terrible tweets
CNN correspondent Kaitlan Collins apologized Sunday for offensive tweets from 2011 in which she used the word "fag" and said, "Idk if I wanna room with a lesbian," according to the Hollywood Reporter.
After the tweets resurfaced this week, Collins, an alumna of the right-wing website the Daily Caller, tweeted, "When I was in college, I used ignorant language in a few tweets to my friends. It was immature but it doesn't represent the way I feel at all. I regret it and apologize."
Ryan Adams is sorry for his tweet about Many Moore
Singer Ryan Adams apologized on Thursday night for tweets about his ex-wife, singer and actor Mandy Moore. The two were married in 2009 and announced they were divorcing in 2015. In a recent interview with Glamour, Moore said that her marriage to Adams was "Not the smartest decision. I didn't choose the right person." She added, "When people said, 'I'm sorry,' I was like, 'No. Sorry would have been had I stayed in a very unhealthy situation.' I didn't. I found my way out. And when I did, things opened back up again."
Well, apparently Adams saw the interview and didn't take it very well. In a series of tweets on Wednesday, he said his marriage with Moore was "doomed from the start," that he had never written a song about Moore and that he was so high at their wedding that he didn't remember it happened, according to CNN.
In a since-deleted tweet, Adams reportedly wrote, "When someone told me we got married I thought they were joking ... Then I realized how many painkillers I was taking. Honestly there weren't enough to numb the shock. Gollygooops."
On Thursday he apologized in a tweet, writing, "I apologize for my remarks. I was trying to be funny. But I have and will always choose to remember the amazing moments. ... It isn't classy or ok lessen what was. I am happy for everyone and doing my best."
Well, that's it for this week's big apologies. Tune in next week for what's sure to be another slew of public entities cleaning up their messes.
Oct. 12, 2018, 2:32 p.m.: This story has been updated.