A fundraiser for Fatima Ali from 'Top Chef' has raised more than $40,000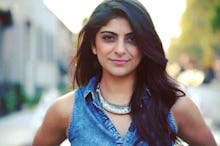 Former Top Chef contestant Fatima Ali, who competed in the show's 15th season in Colorado, recently revealed in an essay published in Bon Appetit that her cancer, a rare form of bone cancer called Ewings Sarcoma, had returned, and that she's been told she likely has a year to live.
Now, a GoFundMe campaign to raise money for Ali has generated more than $40,000 to go toward helping Ali fulfill her dream of traveling around the world, eating at legendary restaurants.
"I am desperate to overload my senses in the coming months, making reservations at the world's best restaurants, reaching out to past lovers and friends and smothering my family, giving them the time that I so selfishly guarded before," Ali wrote in Bon Appetit.
The new GoFundMe was created by a group calling themselves "Team Fati." The description on the page says, in part, "Let's join together in helping Fati experience all that life has to offer this year. She has so bravely and courageously shared so much of herself with us, inspiring so many to keep fighting and reminding us to appreciate life. Let's help her get the most out of the life she has been given!"
It adds that "any money she does not use will be donated to the Sarcoma Foundation of America to help find a cure for this rare cancer." Ali first revealed she was undergoing surgery to remove a cancerous tumor back in January, and then in February, announced she has been successfully declared cancer free. In the Bon Appetit essay, though, she explained that the cancer had returned.
"The cancer cells my doctors believed had vanished are back with a vengeance in my left hip and femur bone," Ali wrote. "My oncologist has told me that I have a year to live, with or without the new chemotherapy regimen. I was looking forward to being 30, flirty, and thriving. Guess I have to step it up on the flirting. I have no time to lose."
One of the members of "Team Fati" is, apparently, Ali's former Top Chef competitor Adrienne Cheatham, who shared the fundraising campaign on her Instagram on Wednesday, and wrote, "Let's try to help her experience all that life has to offer, from hot pot in Queens to @nomacph It is her dream to live to the fullest and visit as many places as she can with the time she has, let's help her live it up!"
By Thursday afternoon, the GoFundMe had been flooded with donations and comments from well-wishers. "Fati, you are an awesome chef and a tough woman," one comment said. "I enjoyed your journey on Top Chef and wish you the very best. If you are ever in Atlanta, happy to dine with you!" Another wrote, "Bon appétit and safe travels, Fati — you are beautiful, kind and inspiring!"