This Week in Trump-Russia News: Trump's lawyers are prepping written answers to Mueller's questions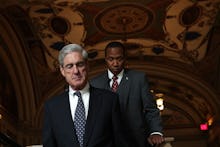 After months of negotiating terms for an interview between President Donald Trump and special counsel Robert Mueller, Trump's legal team is now reportedly preparing written answers to questions from Mueller's investigators as part of their probe of Russia's meddling in the 2016 election.
It remains unclear whether Trump will ever sit down in person with Mueller and investigators on the special counsel's team. But according to the report, Mueller was open to accepting written answers on some questions.
"We are not prepared to agree to more questions until the first group of questions are asked, answered and somebody can explain to us why that isn't enough," Rudy Giuliani, one of the lawyers on Trump's legal team, said in an interview with Reuters.
Giuliani added Trump will still refuse to answer questions about whether he tried to obstruct Mueller's probe — one of the key issues Mueller is investigating.
Elsewhere in Trump-Russia news:
Deceased GOP activist who sought Clinton emails met with Trump adviser Michael Flynn
The story of Peter W. Smith, the late GOP activist who sought to find the deleted emails from Hillary Clinton's server, continued to get weirder.
Smith, who died from suicide in May 2017 after going public with his story to the Wall Street Journal, met with Trump's former national security adviser Michael Flynn as early as November 2015 as part of his quest to obtain the emails, the WSJ reported on Wednesday.
Flynn, of course, went on to be an adviser to Trump's presidential campaign and was later brought on as his national security adviser. He was forced to resign and later pleaded guilty to lying to the FBI about his communications with then-Russian Ambassador Sergey Kislyak.
Mueller's investigators are looking into whether Smith was in cahoots with anyone in Trump world in his attempt to find Clinton's emails, according the Journal's report.
Public continues to support Mueller's investigation
Despite months of angry attacks from Trump, a plurality of Americans approve of the job Mueller is doing with his investigation, according to a CNN poll released Thursday.
Nearly half, or 48%, approve of the way Mueller is handling his probe, as opposed to the 36% who disapprove of the way he's conducting the investigation, according to the poll.
A majority of Americans, or 53%, also think Trump shouldn't fire Deputy Attorney General Rod Rosenstein.
In late September, it looked like Rosenstein's days in the Trump administration were numbered. But Trump met with Rosenstein, and on Monday, Trump said he had no plans to fire the man who oversees Mueller's probe.
Ultimately, nearly two-thirds of Americans, or 61%, say Russia's interference in the 2016 presidential election is a "serious matter that should be fully investigated" as opposed to the 34% who view the probe as "mainly an effort to discredit Donald Trump's presidency."
Fusion GPS cofounder to plead the Fifth
The House Judiciary Committee has issued a subpoena to Glenn Simpson, the cofounder of Fusion GPS. The firm ordered the dossier on Trump's ties to Russia, Politico reported Thursday.
Simpson intends to assert his Fifth Amendment right against self-incrimination.
The House Judiciary Committee subpoenaed Simpson to testify in a closed-door session on Oct. 16.
Trump's former lawyer now a Democrat
Michael Cohen, Trump's former longtime lawyer who pleaded guilty to campaign finance violations and is now cooperating with Mueller's probe, re-registered as a Democrat this week, according to his attorney.
Cohen had been serving as the Republican National Committee's deputy finance chairman before his guilty plea.
"2-Today, @MichaelCohen212 returning to the #Democratic Party another step in his journey that began with the @ABC @GStephanopolous Cohen putting family and country first -distancing himself from the values of the current Admin - Can't wait for his first interview! #StayTuned" Cohen's lawyer, Lanny Davis, tweeted on Thursday.