Anthony Bourdain's legacy and love of food honored in special episode of 'Parts Unknown'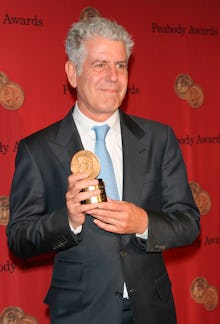 Sunday's special episode of Parts Unknown features Anthony Bourdain's colleagues and fellow journalists remembering their Tony as a humble person who saw the world through a unique and significant lens. Through interviews with his friends and a collection of clips, soundbites and ASMR-like eating scenes, we witness Bourdain's lasting impact on what it means to love food, to tell stories and to value humankind.
"I perceived him a little bit like Indiana Jones," author Andrew Friedman says at the start of the episode. "He could be on the road, in a T-shirt, having a beer or in a kitchen talking to the line cooks." The special highlights Bourdain's rare ability to appear comfortable in any room — or any country — and make a stranger feel like a friend. "And then he could come home and put on a suit and tie and be a man about town, giving a tribute speech to his publisher," Friedman continued. "He cleaned up good, but he was also really comfortable out in the wild."
Indeed, Bourdain was known for titillating quotes; he sung gospel about things as seemingly simple as a bean stew. "Confident, smart, supercomputer brain that could spit out these incredible witty things," Friedman says later in the show. Bourdain once said in an interview that whiskey was best enjoyed alone: "Four o'clock in the afternoon, in a saloon or pub of my choice, in the dying light of the afternoon, dust motes floating in the air, Tom Waits on the juke box and after a few sips [...] free to feel as good or bad about myself as I care to that afternoon."
Bourdain's legacy and the power of food
While it wasn't always possible for Bourdain to share a physical bite of whatever it was he was eating with his audience, he got as close to sharing as possible. "His descriptive powers were so great that even though you, as a viewer, can't taste what you're watching, he could convey what it tasted like, or smelled like, or what it evoked in him, Friedman says. "And that I think was kind of the magic of it."
The special highlights several shots of Bourdain diving headfirst into a sandwich or lighting up at the sight of a marrow-stuffed bone. "As I've become older, I realize the food that I yearn for is the food I react to in an entirely emotional way," Bourdain says. As viewers, we watch him connect to food in the way he describes — not gluttonously, but with real appreciation. His descriptions are elegant, sometimes hysterical and always believable. As Friedman says, the language Bourdain uses to talk about food is beyond poetry — it's nearly biblical. "God is hiding in there, somewhere" Bourdain says of a "stegosaurus-sized shank of cured pork boiled and boiled until it falls aways from the bone."
Bourdain as a journalist
"I would describe myself as a lucky cook who gets to tell stories," Bourdain says in the episode. "I'm certainly not a journalist, I'm not a chef anymore, I like to flatter myself by saying I'm an essayist." His admirers might disagree with his humility —  Bourdain was a master storyteller who, by giving power to other people's stories, showed us the world.
"Increasingly the show became about the world around him, and the frame outside of where he was standing," author and podcaster Andy Greenwald says in the episode. "And I think he really understood the real power in his position was getting the cameras to the place in the first place so that he could turn them around, so he could put the people that were otherwise never on camera on camera ... so he could show us something, not just show us him seeing something."
Bourdain reinvented travel TV; instead of guiding his viewers as the expert, Bourdain brought his audience along to explore the unknown. "Certainty is my enemy — I'm all about doubt," he says in the special. Part of his talent stemmed from wanting to learn and wanting to be uncomfortable. Bourdain had the phrase "I am certain of nothing" tattooed on his arm — a motto that allowed him to listen and see without judgment.
This attitude consistently led Bourdain to learn more, and his adventures never got tired. "Even if you've been traveling nearly nonstop for 15 years like me, there are places that snap you out of your comfortable worldview, take your assumptions and your prejudices and turn them upside down," he says in the episode. "They lead you to believe that maybe there is hope in the world."
Bourdain's prevailing optimism
Bourdain may have perfected his half-curmudgeon, brash persona, but he wasn't all tough. It wouldn't have been possible to tell the stories Bourdain did without a sense of optimism, his supporters affirm throughout the episode. Bourdain saw the good in people and wanted to be good himself. He toyed with the themes of guilt, hopefulness and love throughout the series.
He left a mark on everyone he met. Bourdain saw the importance — and necessity — in valuing everyone's perspective, even if they happened to be at the bottom of the totem pole. He credits his experience as a dishwasher for strengthening this guiding principle. "All my values, every important skill, any good things about my character, any good characteristics I have, all the important lessons of my life, I learned as a dishwasher or a cook, and I'm always going to look at the world through that prism," he says.
At the end of the special, someone off screen asks Bourdain what resonates with him after all of his years of travel. "I see a lot of poverty, I see a lot of cruelty, I have reason to feel angry or frustrated or heartbroken frequently," Bourdain responds. He continues:
"It angers me to see a place like Detroit, a great American city, that's been allowed to fail., To see New Orleans post-Katrina makes me angry. To see Camden, New Jersey — in my own state that I grew up in — it makes me angry. Yes, theres a lot of scary ugly stuff in it. But there is much more, I still think, beauty and kindness and humor and people doing the best they can in often very difficult situations. It is a magnificent planet filled with fascinating and, more often than not, beautiful people."