While You Weren't Looking: 5 stories from the Trump administration that aren't about Kanye West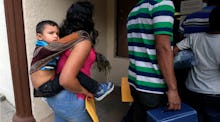 The news this week was dominated by high-profile arrivals and departures within the Trump administration.
Brett Kavanaugh, the embattled Supreme Court nominee who faced a contentious confirmation process after being dogged by allegations of sexual assault and misconduct, took his place on the bench Monday. On Tuesday, U.S. Ambassador to the United Nations Nikki Haley announced she'd be stepping down from her position at the end of the year. And on Thursday, rapper Kanye West stopped by the Oval Office to introduce his plans for a hydrogen-powered plane to replace Air Force One. Seriously.
While the rest of the nation's eyes were trained on West's iPhone password, here are five important stories you might have missed.
Donald Trump wrote an op-ed about single-payer health care that was widely criticized for its inaccuracies
After President Donald Trump wrote a scorched-earth op-ed for USA Today on Wednesday, excoriating the idea of a government-run, single-payer health care system, a Washington Post piece analyzing the veracity of the article found that "almost every sentence contained a misleading statement or a falsehood."
In the op-ed, Trump claimed "Medicare-for-all," as the Bernie Sanders-endorsed proposal is known, would "end Medicare as we know it and take away benefits that seniors have paid for their entire lives" — when, according to the Post, the Sanders plan would actually "improve benefits for seniors, not take them away."
Trump also said he made good on a campaign promise to create new health insurance options and lower existing premiums. The Post's fact-check showed Trump broke that promise shortly after taking office by supporting Republican-backed efforts to chip away at both the Affordable Care Act and protections for those with pre-existing conditions.
Splintered immigrant families still struggle months after family separation policy ended
Nearly four months after Trump signed an executive order halting the forced separations of immigrant parents and children who arrived in the U.S. seeking asylum, dozens of splintered families are still struggling to piece themselves back together.
CNN reported Thursday that Immigration and Customs Enforcement had recently placed a 4-year-old separated girl on a plane home to Guatemala, giving her father — who lives eight hours from the airport — only 30 minutes' notice of his daughter's impending arrival.
On Monday, the New York Times reported on a scene from federal immigration court in which a 2-year-old girl was hoisted into a chair before a judge for a hearing on whether she would be deported or reunited with her parents. As the judge began her line of questioning, the Times reported, the girl began to cry.
"After what the U.S. government has already done to these kids, it's beyond outrageous and inhumane," Lisa Frydman, vice president of regional policy and initiatives for the nonprofit Kids in Need of Defense, told CNN of the conditions migrant children continue to be subjected to.
EPA chief Andrew Wheeler engaged with notable conspiracy theorists and racist content on social media
Acting Environmental Protection Agency administrator Andrew Wheeler reportedly engaged with conspiratorial and racist content on social media over the course of the past five years, according to a HuffPost investigation.
Wheeler, who replaced EPA chief Scott Pruitt in July, retweeted prominent "Pizzagate" conspiracy theorist Jack Posobiec, HuffPost reported. He also liked at least one racist Facebook meme featuring former President Barack Obama and his wife, former first lady Michelle Obama.
In an email sent to HuffPost, Wheeler denied any wrongdoing in engaging with the problematic posts.
"Over the years, I have been a prolific social media user and liked and inadvertently liked countless social media posts," Wheeler said. "Specifically, I do not remember the post depicting President Obama and the first lady. As for some of the other posts, I agreed with the content and was unaware of the sources."
Michael Cohen is now a Democrat
Trump's former longtime lawyer, Michael Cohen, announced via his attorney Thursday that he officially switched his voter registration back to the Democratic Party in an effort to distance "himself from the values of the current" administration.
Cohen's defense attorney, Lanny Davis, said the switch was part of Cohen's stated commitment to put "family and country first," a pledge he made after agreeing to cooperate with special counsel Robert Mueller's investigation and pleading guilty to eight federal charges that included bank fraud, tax fraud and campaign finance violations in connection to his time working for Trump.
Cohen was a registered Democrat before switching his affiliation to the Republican Party in March 2017.
"It took a great man to get me to the make the switch," he once wrote on Twitter, referring to Trump.
Amid foreign policy snafu, Trump waffles on whether to distance the US from Saudi Arabia
As Saudi Arabia faces global scrutiny over its role in the sudden disappearance of Saudi journalist and dissident Jamal Khashoggi, the Trump administration faces mounting pressure from both Democrats and Republicans to distance itself from its strategic ally.
After Khashoggi, a notable critic of Crown Prince Mohammed bin Salman, vanished inside the Saudi embassy in Turkey last week, Turkish officials have since said the eminent writer is likely dead. In response to the apparent extrajudicial killing of a Saudi national by his own government, senators from both sides of the aisle have proposed a vote on halting U.S. arms sales to Saudi Arabia, according to Politico.
Trump, for his part, has expressed reluctance at the idea of quashing the weapons deals, telling Fox News he believes "that would be hurting us."
"We have jobs, we have a lot of things happening in this country," Trump told the network. "We have a country that's doing probably better economically than it's ever done before."
"Part of that is what we're doing with our defense systems and everybody's wanting them," he added. "And frankly I think that that would be a very, very tough pill to swallow for our country. I mean, you're affecting us and, you know, they're always quick to jump that way."