Today in Trump's America: Stacey Abrams calls on opponent Brian Kemp to resign for voter suppression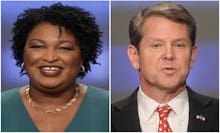 TGIF! I'm your Navigating Trump's America guide, Emily Singer, and I cannot wait for the weekend. While I'll be home relaxing with my husband and dog, Trump will be on the campaign trail, holding a rally near Lexington, Kentucky, to boost GOP Rep. Andy Barr. He is facing a tough race against Democrat and military veteran Amy McGrath — one of a number of female vets running for Congress in 2018.
Here's what's happening in Trump's America:
• Trump is back on the campaign trail Friday after taking Thursday off to hold what amounted to an absolutely bizarre meeting with rapper Kanye West in the Oval Office.
About last night: Stacey Abrams' campaign calls on opponent Brian Kemp to resign
Stacey Abrams, the Democratic nominee for governor in Georgia, is calling on her opponent, Republican Secretary of State Brian Kemp, to resign from his position amid reports he put tens of thousands of voter registration applications on hold through the use of a controversial verification law — a move that overwhelmingly impacts black voters.
Abrams' campaign says Kemp, who as Georgia's secretary of state controls the very election laws that could impact his own candidacy, is abusing the power of his office and should resign as he runs for governor.
"As he has done for years, Brian Kemp is maliciously wielding the power of his office to suppress the vote for political gain and silence the voices of thousands of eligible voters — the majority of them people of color," Abigail Collazo, a spokeswoman for Abrams' campaign, said in a statement, according to CNN.
Questions about Kemp's voter suppression tactics arose after the Associated Press published a report that found Kemp holding up 53,000 voter registration applications through the state's "exact match" verification process. For example, if someone has a hyphenated name but accidentally leaves the hyphen off their registration form, their application would be flagged.
The vast majority — or 70% — of the application forms Kemp's office froze are from black voters. This comes in a year where Abrams seeks to be the first black woman governor in the United States.
Today in Trump's America: More fallout between the U.S. and Saudi Arabia after killing of Washington Post contributor
A bipartisan group of senators may force a vote to cancel an arms deal the Trump administration struck with Saudi Arabia after the country's crown prince was accused of personally ordering the killing of dissident journalist Jamal Khashoggi.
The bill is sponsored by Democratic Sen. Chris Murphy of Connecticut, along with 21 other senators from both sides of the aisle, according to Politico.
Trump wants to continue the arms deal with Saudi Arabia, justifying the continued sale of weapons by saying the attack did not happen in the U.S., and Khashoggi was "not a United States citizen." Khashoggi was a permanent United States resident.
Turkey says it has audio and video proving Khashoggi was killed by a team of Saudi security officers in the Saudi Consulate in Turkey, the Washington Post reported Thursday.
"You can hear his voice and the voices of men speaking Arabic," a person with knowledge of the recordings told the Washington Post. "You can hear how he was interrogated, tortured and then murdered."
And the rest...
"Impolite arrogant woman": Republicans have handed Sen. Elizabeth Warren (D-Mass.) another insult to rally around. Trump Chief of Staff John Kelly called Warren an "impolite arrogant woman" in an email to another White House aide after he had a conversation with her about Trump's travel ban, according to BuzzFeed News. Warren has used insults as a rallying cry for Democrats before. In February 2017, Senate Majority Leader Mitch McConnell tried to silence Warren on the Senate floor, saying, "She was warned. She was given an explanation. Nevertheless, she persisted." The phrase "Nevertheless, she persisted" is now a major feminist rallying cry.
Kanye's White House visit goes awry: Rapper and fashion mogul Kanye West went on a bizarre 10-minute rant in the Oval Office, dropping F-bombs and referring to his comments as "fine wine." The display left Trump — who sat across from West at the Resolute Desk in the Oval Office — speechless. Republicans, who once criticized former President Barack Obama for disrespecting the Oval Office by putting his feet on the desk, had nothing to say about Trump's display with the expletive-dropping West.
Amazon's minimum wage hike: Mic's Jake Horowitz sat down with Sen. Bernie Sanders (I-Vt.) to discuss Amazon's recent decision to raise the minimum wage to $15 for its workforce. Sanders has been fighting for a minimum wage hike for years.
Hurricanes and politics: After Hurricane Michael devastated the Florida Panhandle, I took a look at how the storm could impact the competitive gubernatorial and senatorial contests in the state.
Want to receive this as a daily email in your inbox? Subscribe here.