Hype Daily: Ryan Coogler is in for 'Black Panther 2' and more entertainment news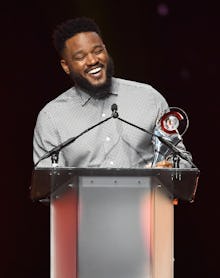 Good morning readers, it's Friday! We made it! If you're hoping I'm going to talk about yesterday's Kanye-Trump meeting, well, I'm not. You can read about it here if you're curious, but I'd rather move on. Let's get into the day's news!
Ryan Coogler signed on for Black Panther sequel
Ryan Coogler, who directed the mega-successful Black Panther film, is officially in to direct a sequel, the Hollywood Reporter reported on Thursday. Apparently "sources" say Coogler "has quietly closed a deal to write and direct the sequel." Production on the film is rumored to begin sometime in "either late 2019 or early 2020," so it will be awhile before we get to find out what's new with T'Challa.
Fyre Fest organizer Billy McFarland sentenced to six years in prison
Billy McFarland, one of the driving forces behind the disastrous 2017 Fyre Festival, a failed music festival in the Bahamas, was sentenced to six years in prison on Thursday, Vice reported. McFarland will serve time on fraud counts related to Fyre Fest and to a ticketing scam he ran while he was out on bail earlier in 2018.
U.S. District Court Judge Naomi Buchwald reportedly said during sentencing, "It is my conclusion based on all the submissions that the defendant is a serial fraudster and that to date his fraud, like a circle, has no ending." Poetic.
Amy Winehouse's hologram is going on tour
This feels very, very sad to me — Pitchfork reported on Thursday an Amy Winehouse hologram tour is being planned, and shows will start in 2019. Winehouse, a British singer with an unmistakable voice, died in 2011 of alcohol poisoning at the age of 27.
But now her hologram is going on tour with a live band accompaniment, according to her father, Mitch Winehouse. He also said that all proceeds from the tour will go to benefit the Amy Winehouse Foundation, which has a stated mission of working "to prevent the effects of drug and alcohol misuse on young people."
"We felt this would be a tremendous way for Amy both to revisit her fans through a hologram, and also an incredible way to raise money for our foundation," Mitch Winehouse said in an interview with Reuters.
Issa Rae will star in a new Paul Feig movie that sounds like it's about Meghan Markle
And now for some good news: Comedian Issa Rae has signed on to star in a new movie from director Paul Feig, the Hollywood Reporter reported on Wednesday. Feig has directed comedies like Bridesmaids and the new Ghostbusters reboot, and Rae's work on her HBO show Insecure is excellent, so I'm feeling good about this development.
The details of the new film also sound a lot like a certain American who married a certain ginger prince. According to the Hollywood Reporter, "The film centers on an American woman (Rae) who moves to London, where she's drawn into a world of wealth and high society and falls in love in a very unexpected way." Hmm, I wonder what's so unexpected about it?
Put this on your radar: Beautiful Boy
The new, Oscar-buzzy drama Beautiful Boy hits theaters on Friday, so if you want to be up on the likely award show contenders this year, this film is a must-see. Obviously, the space drama First Man, which also comes out Friday, is another must-see if you're prepping for the Oscar race.
Beautiful Boy is based on memoirs by real-life father and son David and Nic Sheff, played in the film by Steve Carell and Timothée Chalamet, about their family's struggle to battle Nic's addiction to meth. In his review, Benjamin Lee of the Guardian called Chalamet's performance "fantastic," so keep an eye on him as trophy season kicks off.
This has been Hype Daily, Mic's morning entertainment roundup. It's everything you need to catch up on in the entertainment world and what to look forward to today. Want to receive this as a daily email in your inbox? Subscribe here.