Beto O'Rourke champions racial justice on path to become first Democrat to win Texas in 24 years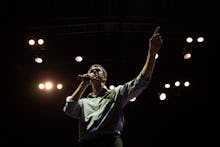 In a midterm election season filled with contentious races, no candidate has captured the nation's attention quite like Texas Senate challenger Beto O'Rourke.
O'Rourke, a 46-year-old U.S. congressman who has represented Texas's 16th district since 2013, is shaping up to have a shot at unseating incumbent Sen. Ted Cruz. The race is currently rated a toss-up by the Cook Political Report, and O'Rourke has a massive fundraising haul to support him; the candidate earned a record $38.1 million in donations in the third quarter of 2018 alone, which consisted of over 800,000 individual donations averaging less than $50 each.
Should O'Rourke defeat Cruz on Nov. 6, he would be the first Democrat to win a statewide race in Texas in 24 years. His ability to unseat a high-profile Republican in one of the country's reddest and one of the most populous states could signal a seismic nationwide shift toward Democrats in the wake of Donald Trump's presidency.
Crucial to O'Rourke's base are voters of color, including the Hispanic residents who make up 39.4% of Texas' population. O'Rourke, who hails from and now represents the border city of El Paso, is championing immigration reform as part of his platform, supporting a path to citizenship for Deferred Action for Childhood Arrivals recipients and other undocumented immigrants and saying he is "open to abolishing" U.S. Immigration and Customs Enforcement.
"It's the practices to principles, the policies that have to be changed," O'Rourke said in a sit-down interview with Mic when asked how the U.S. immigration system can be improved. "Not only were we taking kids from their parents and not only are kids still not reunited months later, but we're losing the lives of hundreds of people at the U.S.-Mexico border."
"Although there are a lot of inhumane practices that must end, it must be a very positive, powerful description of what we want to achieve," O'Rourke continued. "Folks able to live to their full potential, contribute to their maximum capacity here in their country of choice."
O'Rourke's progressive immigration views stand in stark contrast to Cruz, who supports President Donald Trump's border wall and has decried "sanctuary cities" that do not cooperate with federal immigration officials. The current Texas senator has hit back at O'Rourke's policies supporting voters of color; in addition to falsely claiming his opponent wants "open borders," Cruz shared a video in September of O'Rourke speaking to an all-black congregation at a Dallas church as a way of attacking the candidate's views.
In the clip, O'Rourke speaks about the recent killing of Dallas resident Botham Shem Jean, who was shot by a police officer in his own home, saying that the rise in unarmed black men who are shot by white police officers is "not justice." When asked about Cruz sharing the video, which has been retweeted nearly 15,000 times, O'Rourke said that while he knows "there was a purpose" in releasing the video, he's "glad" Cruz shared it.
"That's holding me accountable, keeping me honest," O'Rourke said. "But anyone who is not disturbed by someone who is killed in their own home, by a police officer — if anyone's not disturbed by the fact that the person killed was black, that the police officer was white, at a time that we have too many unanswered killings ... If none of that disturbs you, then something's wrong with your leadership and representation. So that's what I'm trying to say along the campaign trail."
O'Rourke has also criticized the U.S. criminal justice system, which leads black Americans to be disproportionately penalized in the "war on drugs." The candidate supports legalizing marijuana, but noted that a legal marijuana industry would need to "ensure that those who have borne the brunt of the war on drugs are able to have every shot [at] being part of the success that a regulated, controlled sale of that substance provides."
Those arrested for marijuana possession need to have their records expunged "if we're going to take a step in the right direction towards justice for everybody," O'Rourke added, describing those records as "an impediment to those who have been arrested being able to move forward."
As a white man, O'Rourke has not faced that same impediment, he says. The candidate has had his own run-ins with the criminal justice system, having been arrested in the past for trespassing and driving while drunk. O'Rourke noted those experiences "did not teach" him about the system's racial inequalities at the time.
"My arrest for attempted criminal trespass, my arrest for driving drunk didn't end up defining my opportunities in life," O'Rourke said. "But it will be for far too many of my fellow Texans, my fellow Americans, unless we change our laws."
O'Rourke's progressive policies and charismatic candidacy have catapulted him onto the national stage, bolstered by viral videos such as the speech Cruz shared and a passionate defense of athletes who kneel for the national anthem. The Texas congressman's name has already come up as a potential contender for the 2020 presidential race, though former Democratic president Barack Obama did not endorse O'Rourke's Senate candidacy.
Lacking Obama's endorsement doesn't seem to be a problem for O'Rourke, who stressed that his Senate race has "less to do with ... national figure[s] and more to do with Texas." The candidate has made an effort to reach out to all Texas voters, visiting each of the state's 254 counties and making overtures toward even traditionally Republican demographics, such as evangelical Christians.
"This campaign — without PACs or corporations or the Democratic National Committee — is about the people of this state, regardless of where they live, their party affiliation, any other differences that in another year might define or divide us," O'Rourke said. "We're going to put that stuff aside and focus on one another, and bring out the absolute best in us."
O'Rourke has captured many Texans' attention and support; Mic spoke with O'Rourke after a Houston voter registration rally that drew an estimated 3,000 attendees. But will that support be enough for O'Rourke to eke out a win? Recent polls have given Cruz a slight lead over O'Rourke, and despite a reputation for being unlikable, Cruz is a politician with a national profile whose Republican policies align closely with those of the older, white Texans who make up the majority of the state's electorate. Though Cruz openly opposed Trump during his 2016 presidential primary campaign, the senator has since embraced the president and earned his endorsement, which could be a boon in a state Trump won by nine points.
Any potential victory by O'Rourke would rely on his ability to get young voters, as well as voters of color, to the polls. These two groups have traditionally had particularly low rates of voter turnout. When asked if he's done enough to get voters to the polls, O'Rourke said he doesn't know "that I will ever be satisfied with the amount of work that we've done." The congressman pointed to Texas' low ranking among states for voter turnout, which he noted was "not by accident" but rather "by design, on purpose — some people specifically targeted and drawn out of congressional districts, drawn out of a reason to vote, drawn out of their democracy."
"It's going to take a lot to transcend that," O'Rourke said. "I think the onus is on me as the candidate to show up and to show up in places that have been written off. But it's the work and the volunteers, and those who put in the time and the sacrifice that allow this to be possible."
Check out episode 28 of Mic Dispatch — only on Facebook Watch.
To catch future episodes of Mic Dispatch, follow Mic Dispatch on Facebook Watch. For more stories about the show, visit the Mic Dispatch collections page.