Spring 2019 fashion month was the most diverse ever — but Europe's body diversity problem lingers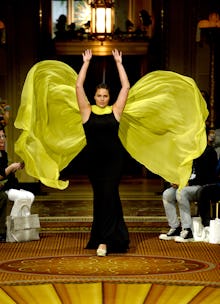 Following the news that New York Fashion Week spring/summer 2019 was the most diverse on record comes the welcome news that fashion month — which includes New York, London, Milan and Paris — was also the most diverse on record.
One example is the percentage of models of color on the runway. In the four years that the Fashion Spot has been issuing its bi-annual diversity reports, that number has more than doubled from 17% models of color in spring 2015 to 36.1% models of color in spring 2019.
Essentially, as the report points out, two in every five models were people of color.
Digging into these numbers a bit more reveals some notable differences between the United States and Europe. Whereas New York Fashion Week saw 45% models of color on its runways, Milan only had 30% models of color.
So despite the fact that all four cities saw incremental — or in the case of New York, quite large — upticks in racial diversity, Europe continues to lag in terms of momentum.
Meanwhile, the stats remained promising for plus-size, transgender and over-50 models. For instance, 54 plus-size models appeared in 15 shows, which is nearly double the previous season's number.
Trans women and nonbinary models also had a record season with 91 runway spots in 52 shows. Meanwhile, models 50 and over also saw major gains with 27 appearances, 14 more than last season.
The plus-size bump is, however, deceiving. Those 54 plus-size castings only equate to 0.73% of the 7,431 total castings. Further, the majority of those castings are a result of New York Fashion Week — courtesy of Savage x Fenty, which featured 12 plus-size castings, Chromat, which feautred 12 plus-size casting and Christian Siriano, who featured eight plus-size models.
Raisa Flowers was the only plus-size model cast at all in London Fashion Week. Only three plus-size models were cast at all of Milan Fashion Week (all in Dolce & Gabbana), but that was enough to make it the most plus-size models ever in the Italian city. Meanwhile, Jill Kortleve was the only plus-size model cast in all of Paris Fashion Week, at Alexander McQueen's show.
"It's hard to fathom why European cities are so slow to embrace plus-size models," the Fashion Spot editor-in-chief Jennifer Davidson said in an interview. "However, only 15 shows total featured plus models, so it still remains an industry-wide issue — including in New York."
It's a similar story for transgender and 50-and-over models, though the numbers show continued upticks. In short: Until recently, fashion was so behind in its efforts to diversify its runways that incremental advancements, while notable, aren't as monumental as they may at plain sight appear to be.
Does Davidson think these gains can sustain or, as some fear, might these numbers eventually begin to plateau? "I'd like to think the upward trends we've been seeing are sustainable," she said. "We can always do better. There are still only a handful of designers that make across-the-board inclusion a priority, so we have a long way to go before we'd need to worry about the numbers leveling off."