Beto O'Rourke blows past records with massive fundraising haul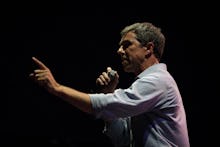 Rep. Beto O'Rourke, the Democratic nominee facing GOP Sen. Ted Cruz in Texas, raised a massive $38.1 million in the third quarter of 2018 — a fundraising haul bigger than most presidential candidates do in a typical quarter.
O'Rourke's haul bests the record for most money raised by a Senate candidate in a single quarter that was set in 2000 by Republican Rick Lazio, who raised $22 million in his failed effort to defeat Hillary Clinton for a Senate seat in New York, according to Roll Call's Bridget Bowman.
That $38.1 million fundraising bounty — raised from July 1 to Sept. 30 — is more than Democratic presidential candidates Clinton and Bernie Sanders raised in the third quarter of 2015, when the Democratic presidential primary was raging.
O'Rourke said that haul came from 802,836 contributions, putting the average contribution at less than $50.
O'Rourke raised three times more than Cruz in the same time period. Cruz raked in $12 million in the third quarter, according to the Texas Tribute, an impressive number, but one that looks paltry compared to what O'Rourke raked in.
The fundraising totals come as polls show O'Rourke trailing Cruz by high single digits, taking the wind out of the sails of Texas Democrats who hoped O'Rourke could be the first Democrat in decades to win a Senate seat in the Lone Star State.
Still, O'Rourke's fundraising haul will likely spur speculation about his plans for 2020 — whether or not he defeats Cruz.