Washington, DC, now has an anti-Trump hotel. Meet Katherine Lo, the woman behind it.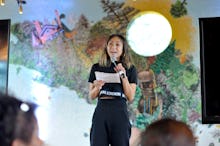 WASHINGTON, D.C. — Two weeks before its grand opening Sept. 28 in Washington, D.C., Eaton Workshop — an ambitious hybrid concept that spans a hotel, co-working space, cultural hub and wellness center — was already fully booked for the night.
The appeal of this property, which held a soft opening in mid-August, is plain at first glance: The lobby is an Instagrammer's dream, draped in chic wood paneling and luxe velvet furnishings. Sharply dressed hotel guests peer inside the glass-walled radio station by the entrance; across from the concierge stand, they peruse the reimagined newsstand and general store slinging hipster necessities like high-end leather wallets and Japanese design books. Over by the gender-neutral bathrooms, a photographic portrait series depicting trans people of the American South silently speaks volumes.
Located a few blocks from the imposing Romanesque facade of Trump International Hotel, the capital city's de facto Trump fan clubhouse, Eaton Workshop is there to make a statement. Guests of all political persuasions are invited to spend the night, but it's hard to imagine why anyone owning a "Make America great again" hat would want to: Everything — from chef Tim Ma's ground-floor restaurant American Son, a culinary meditation on the immigrant experience, to the panel discussions featuring prominent progressive activists — is catered to a liberal sensibility.
Eaton Workshop's long-term goal is to subvert the traditional hotel model and create a space for people invested in progressive social change, and to do it with style. So explained 37-year-old founder Katherine Lo, across from whom I sit in the lobby's so-called "radical library" (yes, really), which is lined with status-quo-challenging books like Rachel Carson's Silent Spring and Simone de Beauvoir's The Second Sex. Lo, clad in a fitted black leather jacket, nibbled on a trio of mapo tofu tacos sent down from the hotel's rooftop bar, Wild Days.
The notion a luxury hotel brand can be a vehicle for progressive change is a new and fairly radical one, but it's less off-the-wall than at first blush. Lo presents herself as a longtime activist and filmmaker working tirelessly to expand liberal consciousness. Her father also happens to be the executive chairman of Langham Hospitality Group, the Hong Kong-based luxury hotel chain. Both Langham and Eaton Workshop are owned by Great Eagle, a real estate holding firm founded by Lo's grandfather in 1963, according to the New York Times.
Few would debate that Lo was born into privilege, with strong family connections in the hospitality industry. But her desire to leverage her power to further an activist agenda is hard to argue with. If you had an ace in your pocket, wouldn't you use it?
"I want reporters to utilize Eaton D.C. as a modern-day press club, a safe spot in very uncertain times," Lo said of the property, which is on K Street and a 12-minute walk from the National Press Club.
Lo also wants Eaton to be a hub for activists, nonprofits and other liberal movers and shakers who'll rent desks in the coworking space or hold events in the hotel's meeting rooms. Connections made in the lobby, she believes, might just translate to real-world change. The key is conjuring an attractive environment conducive to such serendipity.
To that end, Lo has hired a director of culture to curate everything from the contents of the library to upcoming film series to guests at the radio station. An impact strategist — Sebi Medina-Tayac, a D.C.-area activist and member of the local Piscataway Indian Nation — will maintain a dialogue with the community in the form of programming with like-minded organizations. Guests can expect events similar to Eaton Workshop's "Human/Progress Festival," which was timed to the grand opening and featured free-to-the-public panel discussions with nonprofit organizations like Empower DC, a self-advocacy group for low- and moderate-income D.C. residents; activist collective No Justice No Pride; the Latino Youth Leadership Council; and the Committee to Protect Journalists.
"Kat is not skittish about her politics and I think that sets her apart," Medina-Tayac said. Others in her position might have chosen to remain in a political gray area, he added, and even if they did swing to the left, might have partnered with less outspoken organizations, like the Red Cross or Habitat for Humanity. Eaton Workshop, he added, is "probably the most efficient and straightforward way for Kat to utilize her resources for good," which he defined as furthering a liberal agenda. If that means people will come for the design-forward hotel rooms and stay for the social mission, he's all for it.
"Pragmatism is survival," Medina-Tayac said. "We'll achieve our goals by any means necessary."
Born in Hong Kong to a father of Chinese descent and a Detroit-born Chinese-American mother, Lo grew up ping-ponging between the U.S. and Hong Kong. Early on, she said, that split identity made her perceive the world differently than others.
"I think I was always aware of differences in social class and equality growing up," she said. It wasn't until she went to boarding school at Phillips Exeter Academy in New Hampshire, however, that those issues and more first came into clearer focus. Teachers there exposed her to environmentalist works by Rachel Carson, Henry David Thoreau, John Muir and Edward Abbey.
"Funnily enough, at Exeter — which is a very traditional prep school — I was radicalized," Lo said.
After high school, Lo became a fixture on the protest scene at Yale University. Much of her focus was on anti-free-trade organizing — speaking out against "economic policies that favored financial profit over things like workers' rights or helping farmers in third-world countries" — and issues of race and gender. She attended the Kyoto Protocol as a delegate for Greenpeace; she took part in a local Connecticut campaign to clean up power plants that were polluting communities of color. They're interests that, from the outside looking in, seem at odds with Lo's privileged upbringing.
"My personal beliefs are my own and developed independently of my family's business," Lo said, adding that her father supports her vision for Eaton. "I'm working to address the family empire inequality by repurposing [my] resources to build a new, purpose-driven company from the ground up with Eaton."
After college, Lo earned an MFA in screenwriting and directing at the University of Southern California. She worked in the Hong Kong film industry for a spell, but her father soon summoned her to take the creative lead on the Langham Chicago, blending the original design by famed modernist architect Ludwig Mies van der Rohe with Langham's sumptuous aesthetic.
"I think in Chinese culture, family is really important," Lo said of the shift. "So if a parent asks you for something, it's kind of like you almost feel this deep sense of duty. Her father, who originally trained as a medical doctor, had similarly been pulled into the hotel business by Lo's grandfather.
Then, in 2014, her father made another request: Design a hotel brand for a fast-changing world fundamentally reshaped by technology and social media.
At this point, Lo said, she wasn't thinking about creating the liberal answer to the Trump Hotel brand. Donald Trump was still years away from the presidency and had yet to even announce his candidacy. She's since come to embrace the comparison.
"Being branded as the 'anti-Trump hotel' has become a badge of honor that I'm proud to wear because it demonstrates the kind of values we espouse, which stand in stark contrast to what we see with this current administration," Lo said. "If standing for LGBTQ rights, gender equality or environmental justice means that we are known as the 'anti-Trump hotel,' I am more than happy with that association."
"Being branded as the 'anti-Trump hotel' has become a badge of honor that I'm proud to wear because it demonstrates the kind of values we espouse." — Katherine Lo
Lo has no plans to engage with the Trump Hotel brand, but said hotel staff will "encourage an open dialogue" among guests.
Social mission or not, however, Eaton D.C. remains as much a business as a Trump Hotel. That's essential to making it all work, Lo said. The operation's hospitality-focused wing is intended to fund and support its lofty aims, and Lo is optimistic she'll be successful on that front. Eaton Workshop has already opened a sister property in Hong Kong, and there are plans to open more in San Francisco and Seattle. The U.S. wing is in the process of becoming a certified B Corporation, which "will allow us to bind our progressive values with our business model in a legally recognized way," Lo said. The move was inspired by companies who've taken the same tack, such as outdoor apparel company Patagonia, which supports environmental efforts.
In the eyes of many, Lo included, Eaton's bottom line will be a major factor in determining its overall achievement. But it won't be the only factor considered.
"If we can look back a few years from now and confidently say that we did our part to make the world a more just and equal place, then I'll know we've lived up to our mission," Lo said.