Food and Politics: Trump and Kanye West's lunch; White House french fries are the "best"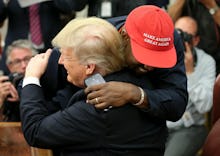 President Donald Trump had lunch with a lot of people this week, including former NFL player Jim Brown and rapper Kanye West. The unexpected trio talked manufacturing, prison reform and gang violence. According to a White House press pool report, Trump hosted the pair alongside senior advisers Jared Kushner and Ivanka Trump in a private dining room off the Oval Office. The lunch menu consisted of a caprese salad and roasted chicken, with a side of sautéed asparagus and fingerling potatoes.
In a private Oval Office press conference with the Daily Intelligencer, Trump's chief of staff, John Kelly commented on the White House's potatoes, calling their derivatives the "best french fries in the world." And the love of White House potatoes isn't isolated to the Trump Administration. Former first lady Michelle Obama even swore off french fries during a White House State Dinner. "I'm going to say this, I'm making a vow. I'm going to take a break from french fries," she said. What is it about the White House's french fries that makes them so good? We may never know the White House's recipe for success, but in a political climate fraught with bipartisan issues, it's good to know that we're all aligned on one thing: Fries are good. That's no small potatoes.
In other food and politics news this week
Donald Trump Jr. dined at Salt Bae's restaurant, Nusr-Et Steakhouse, in Midtown Manhattan in New York on Thursday. "Looks good man," Trump Jr. told Bae of his thinly cut steak after an audible moan.
Restaurants have become a political battleground among politicians' critics and proponents, and now, some D.C. spots are preparing themselves for protests. "I know from 20 years of being here, if there's a black SUV pulling up out front that somebody's about to get out," Equinox Restaurant co-owner Ellen Kassoff Gray told WAMU, a D.C.-based public radio station. "So, I think we have to start to be mindful of that."
A mural honoring Texas Senate candidate Beto O'Rourke and his unabashed love of burger chain, Whataburger, has been painted in Houston. O'Rourke has been spotted at the chain a number of times during his Senate race — after a debate with opponent Ted Cruz, he was filmed at a Whataburger drive-thru dancing and playing air-drums.