What Melania Trump wore her 90th week as first lady — including that outfit in Egypt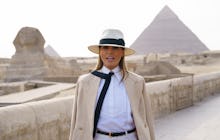 It was yet another extremely busy week for first lady Melania Trump, who wrapped up her big international trip with a final stop in Egypt. She also appeared in a pre-taped interview with ABC News set to air on Friday.
During said interview she apparently shrugged off questions about President Donald Trump's infidelity, said she believes she is the "most bullied person in the world," and also spoke about the #MeToo movement, saying that men also need to be supported and that victims who come forward with allegations of sexual assault "need to have really hard evidence." Whew.
Let's get into her looks, shall we?
Saturday, Oct. 6: A blazer and a fedora in Egypt
Trump wrapped-up her four country tour of Africa on Saturday with a visit to Egypt that included a stop at the ancient Pyramids and Sphinx. She wore an ensemble that included a Ralph Lauren blazer and a silk Chanel blouse, according to Vogue. It was topped off with an off-white fedora.
Her outfit actually reminded the good folks on Twitter of some iconic pop culture looks — namely, the Nazi collaborator René Belloq from the movie Raiders of the Lost Ark and also Michael Jackson in the "Smooth Criminal" music video.
Sunday, Oct. 7: A red turtleneck to return to the U.S.
Trump landed stateside on Sunday, arriving back and Joint Base Andrews in Prince George's County, Maryland. She stepped onto the tarmac wearing a color-coordinated traveling outfit: A knit, red turtleneck sweater, tan cropped pants with a red racing stripe and tan flats.
And that's all she wore folks — the first lady spent the rest of the week laying low, likely resting up after her big trip. Tune in next week to see what she's up to next!
You can read previous recaps of what Melania Trump wore here.