This Week in Food and Travel: LaCroix doesn't have insecticides — here's what's in the popular water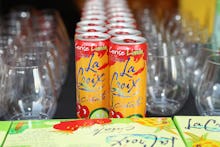 LaCroix, the fizzy, no-calorie sparkling water, has become a cult favorite among millennials. But the colorful drinks have recently come under fire in a lawsuit that points out its "synthetic" chemicals — like one used in cockroach insecticide. Still, one expert maintains you shouldn't worry about artificial substances in your favorite sparkling drink just yet.
In other news, Mic followed one fashion editor's picks at Japanese convenience stores (which include milk doughnuts and roll cakes), explored how a service animal transformed one traveler's experience and spoke with Queer Eye's Antoni Porowski about all things food and weekday keto dieting.
A 2015 study by Consumer Reports found that 62% of shoppers report buying foods labeled "natural" — and that most of them think this label means more than it actually does.
Japan's convenience stores — also known as "konbini" — sell food, makeup products, hangover cures and more.
"It was very easy to train her to perform the necessary tasks required of a medical assistance service dog — alerting me before I have a panic attack, leading me home when I get disoriented during one or lying on top of me to calm me with her body weight."
"Change is a scary thing. I can relate to this personally based on the exponential growth curve I've experienced since Queer Eye launched."