Melania Trump said her "I really don't care, do U" jacket was a message to the "left-wing media"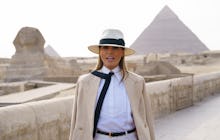 First lady Melania Trump explained the meaning of the jacket she wore en route to visit immigrant children separated from their parents and then detained after crossing the border into the United States, saying the "I really don't care, do U" message emblazoned on the back was a message to the media.
"Why did you wear it?" ABC News' Tom Llamas asked the first lady in a sit-down interview in Africa, where she was traveling last week.
"You know, I often asking myself, if I would not wear that jacket, if I would have so much media coverage," she said. "And it's obvious I didn't wear the jacket for the children. I wore the jacket to go on the plane and off the plane, and it was for the people and for the left-wing media who are criticizing me. And I want to show them that I don't care."
At the time, the first lady's office said the jacket had no meaning and criticized the media for asking about it.
"It's a jacket. There was no hidden message," Stephanie Grisham, a spokeswoman for the first lady, said in a statement at the time. "After today's important visit to Texas, I hope this isn't what the media is going to choose to focus on."
Since the first lady wore the jacket, however, Democrats and other progressive groups have usurped the message and put it on campaign merchandise to show that they do care about the children being separated from their families and detained after crossing the border.