Who asked for trap Usher?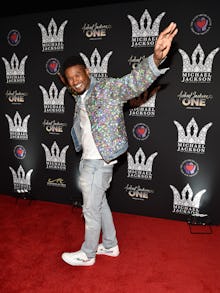 For Usher fans who were waiting for one of the biggest R&B hitmakers of a generation to do the kind of music that made him a success, we need to let it go. We must realize that we are always going to be punished for the disappointing sales of Here I Stand. If I could stream "Trading Places" a trillion times to make most of the later selections from the Usher catalog become a figment of my imagination, I would double my efforts.
I want to know the thought process behind why Usher decided to surprise fans Friday with a trap album titled "A," which was produced exclusively by Zaytoven. I am an Usher fan, but "A" is another disappointment. It is not terrible, but it is mostly perplexing offerings — and not for good reason. Admittedly, when I heard the beat of the opening track, "Stay At Home," featuring Future, I bopped. The beat is great, but it should have gone to Megan Thee Stallion, Cardi B or one of the members of Migos.
"A" is the audible equivalent of an aging man spotting a gray pubic hair and rushing to buy a Maserati to compensate for it. The lyrical content on the album is embarrassing. I don't want to hear Usher obnoxiously sing about cars and money. I don't want to hear him make those National Geographic animal-inspired sounds as ad libs. I don't want to hear him rap "gimme good brain, education" or "bounce that ass" 1,000 times.
Yes, some R&B/pop singers have found ways to jump into rap music. There's Beyoncé and Jay-Z's "Apeshit," but Beyoncé, like Mariah Carey, is basically a rapper with octaves, so that Migos collaboration made sense. Remember Usher's song with Migos called "Still Got It"? It was produced by Zaytoven. It came and went. Yet, here we are. This new Usher album in question very much follows the spirit of that track.
While I understand the pop star has to cater to the masses, I was hopeful that Usher had learned his lesson from the period in which he picked up a glow stick and joined the EDM crowd. While "OMG" extended his run of No. 1 singles on the Hot 100, he's made dozens of hits that don't stick like grits and in turn has alienated some of his fans. To wit, declining album sales soon gave way to reports of disappointing tour sales.
Usher should not have to worry about filling an arena. He is the person behind "U Don't Have To Call," "Nice and Slow" and "Burn." The man is a walking bop, but he's not filling stadiums because after years of cheap urban-pop singles like "Hey Daddy" and "Papers" many Usher fans are wondering why he just won't get back to his true R&B roots.
You'd think that something might have dawned on Usher to make the kind of R&B that his fans have always loved. After all, R&B is finally beginning to recover from the the troubles it faced in the early 2010s that spurred Usher's sudden sonic run to begin with. Ella Mai's "Boo'd Up" is one of the biggest singles of the year. How did Usher see this and think, "So the world wants a trap album from me"?
Usher, why are you not begging for your woman to take you back for at least 30 minutes? Or pop-locking your way into someone's heart? Where is your confessional material? While it isn't our business to know Usher's status with respect to any sexually transmitted diseases, when you have a bunch of folks throwing out accusations and lawsuits, how do you not address any of it? Mind you, your best selling album is called Confessions. He could have found some way to address it, even if abstractly.
I know everyone can't be Beyoncé, but damn, she has made this so easy. You can sound current and timeless, and find a way to bend the trends to your sound. You can have fun but still reflect more mature material in your work. You can own your legendary status and sometimes look above rather than keep up with a younger crowd.
Usher has still displayed moments of brilliance in recent years — "Climax" comes to mind. He does know how to make gorgeous R&B tracks such as "What Happened To U." And I'll even admit to liking some of the "still cool" works like "No Limit" and "Let Me."
But, he seems so stuck on chasing trends rather than owning his place. And the irony of that is, if he owned who he was and where he is now, he would probably perform better than everything he just served us in this new album. Better luck next pop-lock, Usher.