Trump suggests Mattis could be next to step down, calls defense secretary "sort of a Democrat"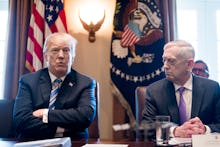 President Donald Trump offered a positive view of his administration's high turnover rate — and did not deny reports that Secretary of Defense Jim Mattis could soon be on his way out.
In an interview set to air Sunday on 60 Minutes, Trump suggested that White House staff changes could be imminent. Trump denied allegations that the White House was in "chaos," but told journalist Leslie Stahl he was "changing things around" in his administration.
"Out of hundreds and hundreds of people, some I could've not picked," Trump said about his administration officials. "I'm changing things around. And I'm entitled to. I have people now on standby that will be phenomenal. They'll come into the administration, they'll be phenomenal."
"More people gonna go?" Stahl asked.
"Yeah, other people will go," Trump said. "Sure."
He added that he didn't approve of everyone on his Cabinet, telling Stahl that while he thinks he has a "great Cabinet," "there are some people that I'm not happy with."
"I have some people that I'm not thrilled with," Trump said. "And I have other people that I'm beyond thrilled with."
One of those people drawing Trump's ire could be Mattis. Trump responded to recent reports suggesting Mattis' job could be at risk, saying that while he "didn't know" if Mattis would leave, "it could be that he is."
"I have a very good relationship with [Mattis]," Trump said. "I had lunch with him two days ago. I have a very good relationship with him.
"It could be that he is," Trump said about Mattis leaving. "I think he's sort of a Democrat, if you want to know the truth. But General Mattis is a good guy. We get along very well. He may leave."
In September, the New York Times reported that Trump and Mattis' relationship had grown increasingly tense in recent months, alleging that the president was mulling replacing Mattis after the November midterm elections. Trump's assertion on 60 Minutes that Mattis is "sort of a Democrat" echoed claims in the Times report Trump is "increasingly concerned that [Mattis] is a Democrat at heart," citing Mattis' apolitical stance and frequent disagreement with the president's policies.
The Times' report on Mattis' potential departure came soon after the release of journalist Bob Woodward's book on the Trump White House, in which Mattis allegedly described Trump as having the understanding of "a fifth- or sixth-grader" after a National Security Council meeting. In its report, the Times noted that Mattis' departure could be cause for concern, citing officials who believe the defense secretary is "the Cabinet official standing between a mercurial president and global tumult."
Mattis' potential departure would be the latest of many high-profile figures who have been fired or have resigned from the Trump administration, from former Secretary of State Rex Tillerson and Chief of Staff Reince Priebus to Department of Health Human Services Secretary Tom Price. U.S. Ambassador to the United Nations Nikki Haley is the most recent high-level official to resign, announcing Tuesday she would leave the administration at the end of the year.
The turnover of Trump's Cabinet reportedly exceeds that of any other presidential administration in the past 100 years — yet Trump still shrugged off the notion that the high turnover rate is cause for concern.
"I mean, at some point, everybody leaves," Trump said Sunday. "Everybody. People leave. That's Washington."