This Week in Politics: Trump heads West as midterm elections approach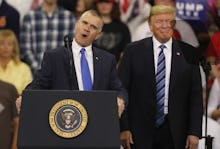 Washington is set to have a quieter week this week, as the political world turns its attention to the November midterm elections now less than a month away.
President Donald Trump will head back out on the campaign trail this week to hold rallies in three western states, while candidates across the country enter the final weeks of their contentious campaigns.
Congress will be out of session this week to allow lawmakers to campaign for their re-election bids. The week won't be free from political controversies, however, as the United States' response to Washington Post journalist Jamal Khashoggi's disappearance and potential murder by the Saudi Arabian government continues to unfold.
Here's what to expect from the political world in the week ahead.
Trump's agenda: The president will head back out on the campaign trail this week ahead of the November midterms with a tour of western states. On Thursday, Trump will campaign for Senate candidate Matt Rosendale in Missoula, Montana — where he's expected to be met by protests in the traditionally liberal city — before heading to Mesa, Arizona, on Friday in support of Senate candidate Martha McSally. Then on Saturday, he will visit Elko, Nevada, where incumbent GOP Sen. Dean Heller is facing a tough re-election bid from challenger Jacky Rosen.
In addition to his campaign stops, Trump is also scheduled to travel to Florida and Georgia early this week, where he'll visit areas affected by Hurricane Michael.
Midterm elections: Trump will be far from the only politician heading out to help candidates on the campaign trail this week. Among those making their own upcoming campaign stops to lend support are former President George W. Bush, who will campaign for Senate candidate Mike Braun in Indiana Monday; Vice President Mike Pence, who will make campaign stops this week in Oklahoma and Kansas; and former California Gov. Arnold Schwarzenegger, who on Saturday will champion initiatives to combat partisan gerrymandering in Michigan and Colorado.
Candidates across the country will continue to campaign this week, including in some of the country's most high-profile races. The Georgia gubernatorial race will likely continue to center this week on the 53,000 voter registrations that Republican candidate Brian Kemp has put on hold as Georgia's secretary of state, 70% of which are for black voters. Democratic candidate Stacey Abrams has called on Kemp to resign, saying in interviews Sunday his voter suppression efforts were "part of a pattern of behavior where [Kemp] tries to tilt the playing field in his favor or in the favor of his party."
Contentious Senate and gubernatorial races will play out in Florida this week in the wake of Hurricane Michael; the ongoing devastation and recovery efforts could affect the elections of Tallahassee Mayor Andrew Gillum, the Democratic gubernatorial nominee, and Senate candidate and current Gov. Rick Scott. Gillum said Saturday he would suspend his campaign through Wednesday to focus on recovery efforts, canceling a planned debate with opponent Ron DeSantis. The two are scheduled to debate Oct. 21, however, which will be broadcast on CNN.
Also set to appear on CNN this week is much-hyped Texas Senate candidate Rep. Beto O'Rourke, who will take part in a town hall Thursday moderated by CNN anchor Dana Bash. O'Rourke's opponent, Sen. Ted Cruz, declined to participate in the town hall after O'Rourke turned down a previous offer to debate Cruz on CNN.
Though he's slightly trailing Cruz in the polls, O'Rourke has captured nationwide attention and attracted a record number of donations, earning $38.1 million in grassroots donations in the third quarter of 2018 alone.
Saudi Arabia: Also set to play out this week is the ongoing fallout from Jamal Khashoggi's disappearance, as it has been alleged the journalist and Saudi dissident was murdered by the Saudi Arabian government at the kingdom's consulate in Istanbul. Trump has threatened a "severe punishment" if Khashoggi was murdered, and the Saudi Arabian government hit back Sunday, vowing to "respond to any measure against it with an even stronger measure."
Both Democrats and Republicans alike have urged the United States to take action against the Saudis if the allegations are true. Sen. Marco Rubio promised "a very strong congressional response" from lawmakers on both sides of the aisle in an interview on CNN, and both Rubio and Republican Rep. Jim Banks have called on Treasury Secretary Steven Mnuchin to cancel an upcoming trip to Saudi Arabia over the reports.