Hype Daily: Ariana Grande and Pete Davidson's break up and more entertainment news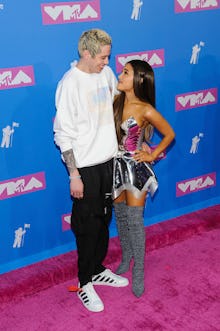 Good morning loyal fans (and a very special shoutout to my father-in-law, who I know reads this roundup every morning). It's the Monday after a busy weekend of entertainment news, so let's get straight to it.
Ariana Grande and Pete Davidson have reportedly broken up
Word on the street is singer Ariana Grande and Saturday Night Live's Pete Davidson, the celebrity couple du jour, have called off their engagement. Rumors of their breakup began circulating Sunday — and CNN reported that a "a source close" to Grande confirmed their split to the outlet.
In case for some reason you don't remember, Grande and Davidson got engaged back in June after just a few weeks of dating, and since then they've seemed very much in love, kissing on the red carpet at the VMAs and talking openly about their sex life.
Grande even named a song on her new album after Davidson. So if the two really have called it quits, it's just another painful reminder that, as summer weather ends and the days get shorter and colder, nothing gold can stay. I wish them both well. Breakups suck!
Prince Harry and Meghan Markle are having a baby!!
Sound the royal baby alarms, because Prince Harry and Meghan Markle are pregnant! Kensington Palace announced the big news in a tweet on Monday, "Their Royal Highnesses The Duke and Duchess of Sussex are very pleased to announce that The Duchess of Sussex is expecting a baby in the Spring of 2019."
The palace followed that up with another tweet saying "Their Royal Highnesses have appreciated all of the support they have received from people around the world since their wedding in May and are delighted to be able to share this happy news with the public." Congrats to all the royals, can't wait to meet the newest arrival.
Natalie Portman gave an awesome speech
Actor Natalie Portman spoke at Variety's Power of Women event on Friday and she broke it down for the crowd, speaking at length about gender inequality in Hollywood and calling out alleged abusers in the industry, like director Brett Ratner. She also offered a helpful series of suggestions to women and allies looking to make the industry more just, including the call to "gossip well."
"Stop the rhetoric that a woman is crazy or difficult," Portman said. "If a man says a woman is crazy or difficult, ask him, 'What bad thing did you do to her?'" Sing it, Natalie. Check out a video of the speech here.
Box-office roundup
The new, critically acclaimed space biopic First Man debuted in third place at the box office in its first weekend out, the Associated Press reported on Sunday, pulling in $16.5 million in ticket sales in the U.S. and Canada. Last week's winners, Venom and A Star Is Born, took the top two slots again. Other new movies, like Goosebumps 2: Haunted Halloween, which made $16.2 million, just couldn't stop the Venom momentum.
The addiction drama Beautiful Boy opened on four screens and made $221,437, according to the AP, and The Hate U Give expanded its release and pulled in $1.8 million.
Put this on your radar: The Conners and Black-ish
It's a big premiere week over at ABC, with weekday staple Black-ish and the sort-of new show The Conners both premiering on Tuesday. Black-ish is starting its fifth season, but creator Kenya Barris has already announced his plans to leave ABC for Netflix. And The Conners, well, I'm just curious to see how they explain the sudden disappearance of matriarch Roseanne Conner, played by Roseanne Barr, who, as we all know, was fired from her own show for her racist tweets. Maybe they'll pretend she never even existed?
This has been Hype Daily, Mic's morning entertainment roundup. It's everything you need to catch up on in the entertainment world and what to look forward to today. Want to receive this as a daily email in your inbox? Subscribe here.