Today in Trump's America: Trump says it's OK he mocked Christine Blasey Ford because "we won"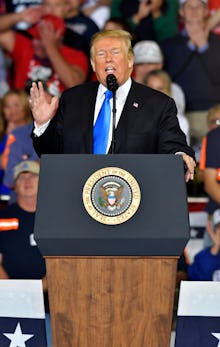 Happy Monday, readers. It's Emily Singer, your Navigating Trump's America guide, and I'm ready for another jam-packed week. With just 22 days to go until the midterm elections, ads and polls will be released at a steady clip, and both parties will make their final pitch to voters for why they deserve the reins of Congress.
Here's what's happening in Trump's America:
• Trump is on his way to the Florida Panhandle to assess the damage from Hurricane Michael.
About the weekend: Trump sits down with 60 Minutes
Trump sat down for a wide-ranging interview with 60 Minutes' Lesley Stahl that aired Sunday night. During it he again refused to criticize Russian President Vladimir Putin, cast doubt on climate change and defended his mocking of Christine Blasey Ford, the woman who first accused now-Supreme Court Justice Brett Kavanaugh of sexual assault.
"Had I not made that speech, we would not have won," Trump said of his mimicking of Ford's testimony during a campaign rally in Mississippi. "I was just saying she didn't seem to know anything."
Stahl pushed Trump to explain why he thought it was OK to mock her and then have thousands of people at his campaign rally laugh at her. The president did not admit any remorse or wrongdoing.
Stahl: Do you think you treated her with respect?
Trump: I think so, yeah. I did.
Stahl: But you seem to be saying that she lied.
Trump: W— you know what? I'm not gonna get into it because we won. It doesn't matter. We won.
Trump also refused to say climate change is manmade, even in the wake of devastating hurricanes during his tenure that have decimated places like the Florida Panhandle and Puerto Rico.
"I think something's happening. Something's changing and it'll change back again. I don't think it's a hoax. I think there's probably a difference," Trump said. "But I don't know that it's manmade. I will say this. I don't wanna give trillions and trillions of dollars. I don't wanna lose millions and millions of jobs. I don't wanna be put at a disadvantage."
Stahl again pushed him on why government scientists would lie about the fact that climate change is making storms more severe. But Trump again refused to say he believes the science.
Trump: I'm not denying climate change. But it could very well go back. You know, we're talkin' about over a millions—
Stahl: But that's denying it.
Trump: —of years. They say that we had hurricanes that were far worse than what we just had with Michael.
Stahl: Who says that? "They say"?
Trump: People say. People say that in the—
Stahl: Yeah, but what about the scientists who say it's worse than ever?
Trump: You'd have to show me the scientists because they have a very big political agenda, Lesley.
Stahl: I can't bring them in.
Trump: Look, scientists also have a political agenda.
Stahl also asked Trump about his relationships with violent dictators such as Russian President Vladimir Putin and North Korean leader Kim Jong Un and why he doesn't call out their atrocities.
"I wanna read you his resume, okay?" Stahl told Trump, referring to Kim. "He presides over a cruel kingdom of repression, gulags, starvation — reports that he had his half-brother assassinated, slave labor, public executions. This is a guy you love?"
"Sure. I know all these things. I mean — I'm not a baby. I know these things," Trump said, later saying that his "love" of Kim is "just a figure of speech."
Stahl didn't let off, however.
"He's a bad guy," Stahl said.
"Look. Let it be whatever it is," Trump replied. "I get along with him really well. I have a good energy with him. I have a good chemistry with him. Look at the horrible threats that were made. No more threats. No more threats."
Today in Trump's America: Elizabeth Warren releases DNA test showing she's part Native American
Sen. Elizabeth Warren (D-Mass.) released a DNA test that says she had a Native American relative six to 10 generations ago, a move that suggests she's trying to neutralize Trump's "Pocahontas" attack against her ahead of a possible presidential bid.
"The results strongly support the existence of an unadmixed Native American ancestor," Carlos D. Bustamante, a Stanford University professor and expert on ancestral DNA, wrote in his analysis now posted on Warren's website, along with a video about her heritage.
Trump has mocked Warren for saying she was part Native American in applications to teach at Harvard Law School, suggesting she was lying about her roots. He has called her "Pocahontas" multiple times.
Now that Warren has released evidence, Trump's use of the Pocahontas nickname would look even more racist than it already did.
"Among other things, this removes any fig leaf that 'Pocahontas' is not a racial slur," New York Times reporter Alex Burns tweeted. "Excuse used to be: it's a joke about how she *doesn't* have Native American ancestry! Well..."
And the rest...
Jared Kushner paid no federal income taxes for years: Trump's son-in-law Jared Kushner appeared to pay almost no federal income taxes for years by using tax write-offs utilized by developers, the New York Times reported on Saturday. This comes after the New York Times' other bombshell report that alleges Trump himself committed outright tax fraud in trying to avoid paying taxes on his inheritance from his father.
Melania explains her infamous jacket: The first lady told ABC News the jacket she wore to visit children separated from their families and detained at the border with the words "I really don't care, do U?" emblazoned on the back was a message to the "left-wing media."