Olivia Munn calls out Kanye West's hypocrisy over "cheating" America: Yeezy Boosts are made in China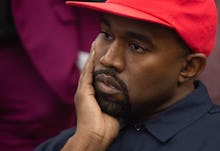 If you are going to espouse the importance of bringing jobs to America and not "cheating" our country by having goods made in China, perhaps it's best to not be at the helm of a multimillion-dollar footwear brand made in... well, China.
Such is the case for singer-producer-designer-agitator Kanye West, who on Thursday made headlines for his appearance at the White House. Among his many claims, which included him referring to the 13th Amendment as a "trapdoor," West said, "We have to bring jobs into America. ... When we make everything in China and not in America, we are cheating our country."
As actress Olivia Munn pointed out Saturday, West's Yeezy brand is produced in China, not America.
In fact, a 2017 report conducted by the U.K. tabloid the Daily Mirror — which teamed up with United States-based China Labor Watch, a nonprofit that aims to defend Chinese workers' rights — said Yeezy Boosts are made in a Chinese factory where workers are paid a monthly total of 329 pounds (about $433). (Adidas later refuted the article, saying the figures tabulated were incorrect.)
So it seems, much like the president's old tweets, West's pointed outrage could use some boomeranged inflection toward his own actions, which suggest that if we are in fact "cheating" our country, he's perhaps the cheater-in-chief of it all.