The blatant contradiction between what Melania Trump wears and what she says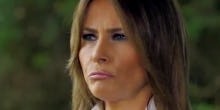 Fashion is undoubtedly a means of communication. Karl Lagerfeld once called fashion "a language that creates itself in clothes to interpret reality." But when it comes to first lady Melania Trump — despite at times wearing garments with text scrawled across them — she said her fashion choices should not be a point of focus for the general public. 
For hundreds of years, Americans have focused greatly on what first ladies have worn and the messages they were trying to send with their sartorial choices. For instance, Michelle Obama donning an affordable J.Crew outfit to meet a prime minister's wife. As the New York Times' Cathy Horyn wrote, Obama "has turned the seemingly frivolous into political capital of her own."
Not so for Trump. "I wish people would focus on what I do, not what I wear," Trump told a press pool during the final leg of her five-day stint in Africa, her first solo foreign trip as first lady.
It's hard to call it anything other than a blatant contradiction to see a person with text scrawled on their back in giant letters say that they want the focus off her clothing. People have become increasingly interested in anything Trump has to say since she became first lady, despite the rarity with which she has spoken out in interviews.
In fact, Friday night's conversation on ABC with Tom Llamas was her first extensive sit-down interview since she entered the White House. During that interview, which Llamas teased earlier on Friday during an appearance on The View as "the most revealing interview of Melania Trump to date," she didn't particularly reveal much.
Meanwhile, what Trump has done so far in the White House has been limited. Eight months after announcing she would focus on addressing cyberbullying, the nation's top cyberbullying expert told Mic he had yet to hear from her. Her "Be Best" campaign, first announced in May, has resulted in little action beyond hospital visits and tweets.
Trump's statement about focusing on what she does versus what she wears was particularly ironic considering the outfit Trump chose to wear during the interview, itself a large statement, whether she intended it to be or not. Sitting on a table next to her was a pith helmut, first popularized in the late 19th century and a common symbol of white colonial rule and native oppression.
The outfit had drawn great criticism prior to Friday's interview airing as she had worn the outfit on the fifth day of her trip to Africa.
When she was asked about her now infamous "I really don't care. Do U?" jacket, Trump gave a prescriptive, albeit rambling, response.
"You know, I often asking myself, if I would not wear that jacket if I will have so much media coverage," she said. "And it's obvious, I didn't wear the jacket for the children. I wore the jacket to go on the plane and off the plane. And it was for the people and for the left-wing media who are criticizing me. And I want to show them that I don't care. You could criticize whatever you wanna say, you can say. But it will not stop me to do what is right."
She then said that she was "kind of" trying to send a message with the jacket, but that it was a statement that she wanted to send to the media, reiterating her desire for people to pay attention to her actions as first lady.
"After the visit, I put it back on because I see how media got upset about, obsessed about it," she said. "I would prefer that they would focus on what I do and on my initiatives than what I wear."
Perhaps it is most ironic that she admitted she was sending a message with her jacket but that she wants people to pay attention less to what she wears. Trump implied that in the hours between her arrival to a migrant child detention center in Texas to the time she left, she was made aware of how "obsessed" the media had become with her jacket.
It's also an example of Trump following her husband's lead of politicizing outrage with the implication that only the "left-wing" media would find anything offensive in a first lady wearing a jacket emblazoned with a message of "I don't care" on her way to visit detained child refugees.
First lady fashion will always be a topic of interest, but in particular for this first lady given her lack of communication. For her to air any disdain in the discourse around her, despite her evasiveness to the public, is yet another example of Trump's lack of understanding of the power that her unofficial title wields.