Trump administration proposes new restrictions, fees for protesters in Washington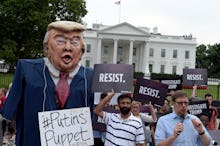 Protests against the Trump administration and its controversial policies have become commonplace in Washington, D.C. Now the administration is taking steps to restrict them.
The National Park Service is proposing changes to regulations concerning demonstrations in Washington, including at such iconic spots as the White House and National Mall. The proposed regulations are currently open to public comment through the end of the day Monday; more than 36,500 comments have already been received as of this writing.
Among the restrictions proposed in the new rule are imposing fees on demonstrators to help the NPS "recover costs of providing necessary services," such as trash removal; putting restrictions on what structures and signs protesters can use while demonstrating; and limiting spontaneous demonstrations, as the NPS proposes to change the language for issuing waivers to bypass the usual 48-hour notice required for demonstration permits.
The NPS would also limit the amount of space protesters have to demonstrate in front of the White House, closing 20 feet of the 25-foot-wide sidewalk in front of the White House on Pennsylvania Avenue where protesters have often gathered.
In a comment on the proposed rule, the American Civil Liberties Union described many of the proposed regulations as being "unconstitutional" limits on First Amendment rights, noting the proposed amendments "harken back to the era in which the courts had to be called upon to protect the right to dissent in the nation's capital."
The proposed changes come as many Americans across the country have spent Trump's presidency taking a stand against the administration and its policies. According to the Crowd Counting Consortium, there were over 8,700 protests in the U.S. in 2017, approximately 74% of which were in some way against the president or his viewpoints. Those protests have only continued in 2018, including major protests in Washington on gun violence, the Trump administration's family separation policy and the confirmation of Brett Kavanaugh to the U.S. Supreme Court.
The Center for Popular Democracy said in a statement the move to limit protests represents "a dangerous step toward authoritarianism," describing the Trump administration as "trying to silence the millions of people across this country that believe in equity, justice and democracy and dismiss our movement as being fake."
"Peaceful demonstrations are an important way for people to have their voices heard in our democracy," the Center for Popular Democracy noted. "From women's suffrage to the civil rights movement, our nation would not be what it is today without protests and demonstrations. In this time where politicians make policy decisions based on the priorities of the lobbyists and millionaires that give them millions of dollars, it is more important than ever that we protect the ways for everyday people to have a say in our government."