Google's AI software seeks to detect advanced breast cancer better than we have before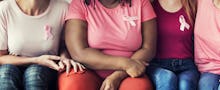 Shutterstock
October is breast cancer awareness month, and Google is working on software that detects the disease more quickly and accurately.
Google's findings were cited in two medical journals, the Archives of Pathology and Laboratory Medicine and the American Journal of Surgical Pathology.
Google first revealed its pathology assistance initiative in March 2017. On Friday, Google noted how far it has come in creating artificial intelligence that examines images of lymph nodes to detect metastatic cancer. The software, called the LYmph Node Assistant, accurately detected slides with cancer 99% of the time. Additionally, LYNA cut the slide review time in half from two minutes to one minute.
"In the first paper, we applied our algorithm to de-identified pathology slides from both the Camelyon Challenge and an independent dataset provided by our co-authors at the Naval Medical Center San Diego," Google said in its blog post. "In both datasets, LYNA was able to correctly distinguish a slide with metastatic cancer from a slide without cancer 99% of the time."
Breast cancer is a problem that affects one in eight women in the United States. The disease is expected to claim over 41,000 lives in the U.S. this year alone.
Google isn't the only one working on technology to address breast cancer diagnoses. Oxford University's Ralph Highnam is using AI to address the disease similarly by examining screening images as well.
"It has become very clear that the way to have successful application of AI is not just to treat breast images like car images," he said. The added context of breast physiology, breast tissue and how the screened images were created is also important, Highnam noted.
Google's software may one day help pathologists detect breast cancer more quickly than ever before, but don't expect the computers to put human doctors out of a job just yet. For now, the software works in tandem with, and not in place of, human intellect.
"Further, LYNA was able to accurately pinpoint the location of both cancers and other suspicious regions within each slide, some of which were too small to be consistently detected by pathologists," Google noted, saying it hands off the data to doctors for a final verdict. "Pathologists with LYNA assistance were more accurate than either unassisted pathologists or the LYNA algorithm itself, suggesting that people and algorithms can work together effectively to perform better than either alone."