At Japanese restaurant Zauo, diners "fish" for their own dinner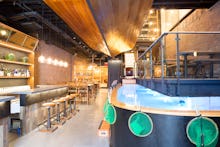 At a preview of New York City's Zauo, which officially opened its doors on Monday, I walked in to find waiters idly standing by shallow tanks, fishing rods and nets in hand, ready for customers to catch their dinner. Every time a fish was caught, a celebratory pounding of a large bass drum reverberated throughout the restaurant, causing nearby trout to scatter in opposite directions, seemingly alarmed by the noise. At Zauo, I soon learned, quiet is a rarity.
New York is home to the first Zauo in the United States. The restaurant is part of a successful, existing chain in Japan, where there are 13 locations. In the New York location, there are three freshwater tanks, each devoted to a particular type of fish. One large tank of swimming trout sits on the first floor. On the second floor, patrons can sit in the 60-foot boat, where partitioned tanks of lobster and flounder are also located. The rainbow trout, salmon trout and striped bass are sourced locally from Pennsylvania, according to Rui Higuchi, Zauo's general manager, while the flounder and fluke are imported from Korea and the lobsters from Canada.
In order to "fish" at Zauo, you've got to agree to a strict set of rules: Every patron signs off on paperwork for a fishing license (a one-page document that holds customers accountable for damage or personal injury valid, though Higuchi emphasized it's mostly for fun). There's only one real policy that governs fishing at the restaurant: no catch-and-release fishing under any circumstance. The rule is meant to encourage visitors to eat what they catch, Higuchi said, but also to preserve the fish's quality.
"We can't catch a fish and return it to the water because every time we catch it, it actually weakens the fish," he said. "We want the fish to live." (A study published in 2018 found that catch-and-release fishing can, in fact, have adverse effects on fish, subjecting them to a number of feeding-related injuries.)
It costs a pretty penny to go indoor fishing in New York's concrete jungle. Fishing prices start at $38 for a rainbow trout or $110 for a salmon trout. And if you don't want to catch your own fish, you'll have to pay a premium for that, too. The restaurant has a set of "regular" prices for fish, caught by waiters. According to Higuchi, it's cheaper to catch your food because it encourages visitors to be a part of the experience. There's also a menu of sashimi and tempura that don't require any fishing at all.
After showing proof of my "license" to a waiter, she pointed to a lobster in the corner of the tank for me to fish for. Provided with a flimsy fishing rod, I couldn't actually "fish." In fact, according to an instructional pamphlet on each table, most of the fish aren't even attracted to the bait. These lobsters, along with rockfish and flounder, are caught using a hook rod, not unlike a claw crane at an arcade, intended to simulate fishing.
I dropped the fishing hook into the shallow tank, hovering over the chosen lobster, but kept either missing the lobster entirely or grabbing it only by a leg. After unsuccessfully "fishing" for several moments, the eager waiter, witnessing my struggle, picked up the catch using a wide net. "Congratulations!" she exclaimed, showering me in unearned compliments.
Once I "caught" my lobster, I had the choice of having the dish fried, grilled, simmered in soy sauce or sashimi-style. After several glasses of sake, my tempura-fried lobster arrived, its head also on the plate. The sight wasn't as alarming in appearance compared to a sashimi-prepared salmon trout with its head propped up on a skewer at a nearby table.
"Fishing" at Zauo is ultimately a performance, with theatrics not unlike those involved in other themed-restaurants such as a Benihana steakhouse or Ninja Restaurant (both arguably caricatures of Japanese culture). While fish is a staple of the Japanese diet and the country is considered to be one of the world's largest seafood markets, most Japanese people don't fish for their meals and pound on a drum in celebration. At times, Zauo felt a little inappropriate and maybe even culturally insensitive. Maybe at another time, it can feel fun if you embrace the experience (and the alcohol).
Beyond its gimmicky feel though, Higuchi said he believes the restaurant largely has educational value for families. "A lot of children don't know what the actual fish looks like when it's bought at a supermarket," he said. "You only buy a filet of fish. You never get to know the true form of a fish," he said. Still, it's hard to believe kids will have anything to gain except a distaste for fish entirely when confronted with a skewered fish head — but that's part of the experience, and one that Zauo doesn't shy away from.
According to Higuchi, the chain is celebrated in Japan, with Zauo restaurants often filled with locals. He said its popularity speaks to a sentiment of appreciation in Japanese culture, and that every Zauo restaurant is ultimately intended to teach its guests the value of hard work.
"We say 'itadakimasu' in Japanese before every meal, which in most places means 'bon appetit' or 'let's eat,'" he said. "But there's a deeper meaning — we're grateful for everything that went into that meal."