Be afraid, be very afraid: GOP turns to fear, racism in closing midterm message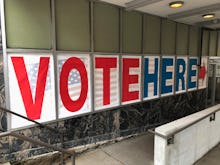 With 22 days to go until voters head to the polls for the midterm elections, Republicans have settled on a final pitch: Be afraid, be very afraid.
In ad after ad, GOP outside groups along with the Republicans running for House, Senate and governor all across the country have included a message of fear to scare their base into voting Republican up and down the ticket, warning of the liberal "mob" that will take over the country should the GOP lose control of Congress.
The ads looks a lot like the race-baiting closing message Republicans employed in the Virginia gubernatorial election in 2017, saying a Democratic governor would allow criminals to roam free and allow MS-13 gang violence to flourish.
The message didn't work in Virginia, which is a purple state that Hillary Clinton won in the 2016 election. The state's Democratic Gov. Ralph Northam beat GOP nominee Ed Gillespie by 9 points, a massive margin in a state with a tradition of close elections.
Republicans seem to think those same fear tactics may work nationally in Senate and House races being fought in territory Trump carried in 2016, and are using that message rather than touting the tax cut that Republicans said would be the party's saving grace in the midterms.
For example, in New York's 19th District — a competitive seat that President Donald Trump carried by a 7-point margin in 2016 — the National Republican Congressional Committee is running racist ads against Democratic nominee Antonio Delgado.
Delgado, a lawyer and Rhodes Scholar, once made a rap album in college, which the NRCC is using to portray him as a thug. Polls show the race is close, and it's currently rated a "tilt Democratic" contest by the nonpartisan political handicapping outlet Inside Elections.
In Virginia's 7th District, Congressional Leadership Fund — a super PAC tied to House Speaker Paul Ryan — is trying to paint Democrat Abigail Spangberger, a former CIA operative, as a terrorist sympathizer in over-the-top ads.
"We already know some of Abigail Spanberger's secrets, teaching at 'Terror High' then trying to hide it from us," a narrator says in the ad. "Now we're learning about Abigail Spanberger's radical policies, like giving $100 billion to the leading sponsor of terrorism."
The race is rated a "toss-up" by Inside Elections.
In Minnesota's 1st District, one of just two Democratic seats in the "toss-up" category, the NRCC is running an attack ad against the Democratic nominee, Dan Feehan, a military veteran who Republicans say doesn't support the troops because he believes in football players' right to kneel during the national anthem.
"Millions have paid the ultimate price, defending the values our flag represents," a narrator says in the ad. "Land of the free, home of he brave, and they never took a knee. But liberal Dan Feehan celebrated Colin Kaepernick's protest of our national anthem, even said Kaepernick's kneeling matches the patriotism of our military. Tell Dan Feehan real patriots stand together."
Feehan is a decorated veteran who served two tours in Iraq.
In Kansas, CLF is running attack ads against Democrat Sharice Davids, calling her a "radical left-wing" candidate who doesn't support law enforcement.
"Sharice Davids sided with left-wing radicals and turned her back on law enforcement," a police officer says in the ad. "Sharice Davids is wrongs for Kansas."
Kansas' 3rd District is rated a "tilt Democratic" contest by Inside Elections.
Bloomberg News reported on an analysis that found Republicans are focused on social issues rather than the tax cuts. Just 17.3% of ads run by CLF have focused on the tax bill, according to the analysis, which also found that the super PAC is running ads on issues that rile up the GOP base like "open borders" and crime.
Democrats, on the other hand, are focused on health care in their ads, according to an analysis by Kantar Media, which analyzes ads.