With his 'Beautiful Boy' press tour, Timothée Chalamet proves himself a celebrity style savant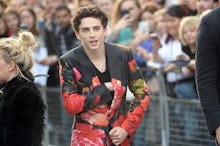 Behind most of the great red carpet looks of yesterday and today is a stylist. Jennifer Lopez's green silk chiffon Versace dress for the 2000 Grammy Awards was courtesy of then-stylist Andrea Lieberman. Lupita Nyong'o deployed stylist Micaela Erlanger for her 2014 sky blue Prada dress worn the night she picked up her first Oscar. Lady Gaga's pink Maison Valentino at the A Star Is Born Venice Film Festival debut was courtesy of Sandra Amador and Tom Eerebout.
But for Hollywood darling Timothée Chalamet, despite remarkably styled looks on recent red carpet and talk show appearances, a stylist just isn't in the cards.
In a February interview with Frank Ocean via VMan, Chalamet admitted just this, telling the crooner that being involved "with fashion has been really fun, just as a fan. I don't want to work with a stylist or anything. I've been following designers like Raf, Haider Ackermann, Hedi Slimane — these guys are like rock stars. They're artists."
As a fanboy of such artists, Chalamet has opted to self-style himself in their likeness, and to great sartorial effect. Despite Chalamet favoring suits, it wasn't until recently that tailoring became such a principal of his aesthetic.
See:
Below, let's take a look at some of the recent offerings from Chalamet courtesy of his press tour.
On Saturday, at the U.K. premiere of his latest film Beautiful Boy
Chalamet opted for a shoulder-to-hem red blossom Alexander McQueen autumn/winter 2018 suit.
On Wednesday, during an appearance on Good Morning America
Chalamet wore an embroidered velvet Saint Laurent Western shirt.
Later that night, during a taping of The Tonight Show
Chalamet wore a jacket from Saint Laurent's men's fall 2018 collection.
On Oct. 8, at the Hollywood premiere of Beautiful Boy
Chalamet wore a crimson just-off-the-runway, all-red look from Virgil Abloh's Louis Vuitton spring 2019 debut men's collection, pairing the look with white sneakers designed by Abloh.
On Sept. 24, arriving at the San Sebastian International Film Festival premiere of Beautiful Boy
Chalamet chose a powder blue Alexander McQueen suit adorned with cherry blossoms and bird embroidery.
He paired the look with chunky Alexander McQueen red and white sneakers.
At the Sept. 7 Toronto International Film Festival premiere of Beautiful Boy
Chalamet wore a mostly black embroidered Haider Ackerman suit.
As Kris Jenner might say if Chalamet were a Kardashian (just go with it for a second), "Timmy, you're doing amazing, sweetie."