Indicted GOP Rep. Duncan Hunter now running anti-Muslim attack ads against his Christian opponent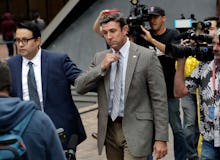 Rep. Duncan Hunter, the California Republican indicted on charges of essentially using his campaign war chest as a personal piggy bank, is running a smear campaign against his Democratic opponent, Ammar Campa-Najjar, incorrectly claiming Campa-Najjar is a Muslim terrorist seeking to "infiltrate" Congress.
In a letter sent to voters and obtained by CNN's Andrew Kaczynski, Hunter claims Campa-Najjar is a security risk and insinuates he would provide classified information to his family with terrorist ties.
This is not the first time Hunter — who was indicted in August on charges he used more than $250,000 in campaign funds for personal expenses and falsified reports with the Federal Election Commission — has made misleading statements about his opponent. In September, in a speech to a GOP women's group, Hunter reportedly said Campa-Najjar is a Muslim who changed his name to alter perceptions about his ethnicity.
"He changed his name from Ammar Yasser Najjar to Ammar Campa-Najjar so he sounds Hispanic," Hunter said in the speech, according to NPR. "That is how hard, by the way, that the radical Muslims are trying to infiltrate the U.S. government."
Campa is his Hispanic mother's surname, and Campa-Najjar is Christian — not Muslim.
In a campaign ad, Hunter ties Campa-Najjar to his grandfather, who died years before he was born, and the ad says Campa-Najjar is "working to infiltrate Congress."
The Washington Post Fact Checker gave the ad four Pinocchios, a rare rating that indicates the ad is a complete pants-on-fire lie.
"This ad uses naked anti-Muslim bias in an effort to scare Californians into voting for an indicted Republican incumbent," the Washington Post wrote. "The Democrat on the receiving end of these attacks isn't even Muslim. All the claims in the ad are false, misleading or devoid of evidence."
Campa-Najjar's campaign called on Republicans to condemn Hunter's smear tactics.
"The xenophobic and race-baiting attack on Ammar Campa-Najjar likely ranks among the most dirty, hate-filled, deceptive smear campaigns in California political history and the Ammar campaign is calling for the Republican Party to further distance itself from Rep. Hunter," his campaign said in a statement Monday. "The piece attempts to incite hate against Campa-Najjar for the actions of a man who died 16 years before he was born and whose actions he had nothing to do with and has disavowed."
Hunter's indictment has opened the door for Democrats to possibly pick up this heavily Republican San Diego-area House seat. While polls still show Hunter with a lead, Hunter's over-the-top ads with racist scare tactics indicate he's worried about his re-election hopes in California's 50th District.
Campa-Najjar has been airing ads highlighting Hunter's indictment.
"Hunter is a guilty man living on borrowed time," Campa-Najjar said in a news release announcing an ad that highlights Hunter's indictment. "As for his racist attacks, Hunter was indicted by the FBI and I was cleared by the FBI to serve in the federal government — case closed. CA50 deserves better than a lawbreaker for a lawmaker."