Myanmar military members posed as pop stars to spread violence-inducing fake news on Facebook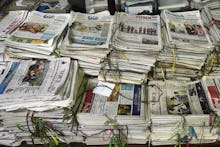 Fake news on social media platforms has been at the center of violent acts in Myanmar since as early as 2013. The military in Myanmar contributed to the violence by creating fake accounts to mislead the country, the New York Times reported Monday.
By creating accounts that appeared to belong to celebrities, models and national heroes, military personnel shared fake news posts aimed at Myanmar's minority Muslim community. While Facebook banned Myanmar's army chief and other officials in August, the fake accounts allowed the military to secretly continue posting. According to the Times, the Myanmar military used Facebook as a tool for ethnic cleansing.
"The campaign, described by five people who asked for anonymity because they feared for their safety, included hundreds of military personnel who created troll accounts and news and celebrity pages on Facebook and then flooded them with incendiary comments and posts timed for peak viewership," the Times reported.
One of the fake stories centered on a Buddhist woman who was raped by a Muslim man. Another quoted a fake source saying Islam was a global threat to Buddhism.
Violence incited via Facebook has long been a problem for the social media company. According to Wired, Facebook once received two direct warnings about violence-inducing content in Myanmar before riots broke out in 2014, but hesitated to take action.
"I think they were more excited about the connectivity opportunity because so many people were using it, rather than the core issues," Aela Callan, a foreign correspondent from Stanford University, told Wired. Callan met with Elliot Schrage, Facebook's vice president of global communications, about fake accounts back in November 2013.
In July, however, Facebook revealed it would begin to limit false information on the platform meant to spark violence. The move affected users in Myanmar as well as Sri Lanka, where misleading posts on the site have also resulted in violent acts.