Mic Daily: Trump mocks Beto O'Rourke at his latest rally — and other news of the day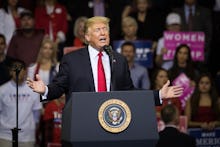 Good evening, folks. I'm here, as always, to be your guide through Mic's top stories of the day, including a fascinating series of interviews shedding light on what it's like to be a sober person working as a bartender.
As a freshman at Spelman College in Atlanta, Stacey Abrams — years before she decided to run as a Democratic candidate in Georgia's gubernatorial race — participated in a protest of Georgia's state flag, lighting it ablaze. At the time, the state's flag was emblazoned with Confederate imagery.
In a new statement sent to the New York Times on Monday, Abrams defended the decision.
November's midterm elections are still two weeks away, but a few states have opened early voting locations — and demographic data is emerging about those who have turned up so far. But, according to Mic's Emily Singer, for now you should be skeptical as to the significance of those numbers.
During a rally in Houston on Monday night, President Donald Trump was in a particularly rambunctious mood. In a short time, Trump cast Rep. Beto O'Rourke as a "stone-cold phony," then self-identified as a "nationalist" and baselessly blamed Democrats for the so-called caravan of migrants traveling toward the southern border of the United States.
Recently, comedian Sarah Silverman told Howard Stern in an interview that her longtime friend and fellow comedian Louis C.K. had masturbated in front of her with her consent — in part, at least, crafting a more sympathetic narrative around allegations of sexual misconduct C.K. has willingly admitted are true.
In response to Silverman's comments, one of the women who first publicly accused C.K. of misconduct criticized her, saying C.K. is "a predator who victimized women for decades and lied about it."
As a bartender, a big part of your job is to schmooze with your patrons, making conversation and helping them feel comfortable in your space. But how does that dynamic shift when you tell a customer you actually don't drink — say, when they offer to buy you a shot?
Mic spoke with seven in the industry who have had to deal with exactly that.