Stacey Abrams says Brian Kemp is creating "miasma of fear" over voting in Georgia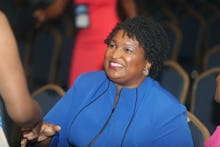 Georgia gubernatorial candidate Stacey Abrams on Sunday called for the resignation of her Republican rival, current Secretary of State Brian Kemp, saying his documented attempts to suppress votes in the state had created a "miasma of fear."
"What about those low-propensity voters in those tiny communities who are finally stepping up and saying, 'This is my turn to cast my ballot,' only to find out that they are disenfranchised?" Abrams said during an appearance on CNN's State of the Union.
"They don't know that they can go to the polls," Abrams continued. "They get a confusing letter saying there is something wrong with their registration, and more than likely they will sit out this election."
Multiple news outlets reported Thursday that the Georgia NAACP was preparing to file suit against Kemp over delays in approving an estimated 53,000 voter registration applications, a majority of which were submitted by African-Americans.
News of the on-hold registration applications comes after years of reports of Kemp's efforts to disenfranchise voters. Previously, his office has wielded Georgia's "exact match" voter ID law as a tool against people of color, scrapping voting applications that don't exactly align with the information provided on state ID forms — down to a misplaced hyphen, in some cases — to prevent citizens from voting.
During her appearance on State of the Union, Abrams said the tactics were part of a playbook used to "scare people out of voting."
"Voting should not be a question of trust on the part of voters, whether they can trust the system," she said. "And right now, he is eroding the public trust in the system because 53,000 people have been told, you may be able to vote, you may not, it's up to you to prove it."
"The miasma of fear that is created through voter suppression is as much about terrifying people about trying to vote as it is about actually blocking their ability to do so," Abrams added.
Through her organization the New Georgia Project, Abrams has for years made efforts to try and register more young and minority voters — two groups that historically tend to have low turnout at the polls. Kemp has previously criticized Abrams for her advocacy work, saying the New Georgia Project had submitted "shoddy" voter applications that did not meet state requirements.
However, during a separate appearance on Sunday's Meet the Press, Abrams touted the program's efficacy and said she still believes she will emerge from the election victorious.
"My organization, working with the Democratic Party, we've put together the largest voter protection effort in the state's history," Abrams said. "And we have national organizations that are also paying attention. And I think we can make this work."
Abrams is currently locked in a statistical dead heat with Kemp, according to RealClearPolitics. If elected, she would become the first black woman governor in American history.