David Brat mentioned Nancy Pelosi 25 times in his debate against Abigail Spanberger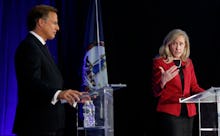 During a debate in the race for Virginia's 7th Congressional District on Monday night, incumbent Republican Rep. David Brat mentioned House Minority Leader Nancy Pelosi's name no fewer than 25 times.
In his opening statement, Brat said a vote for his opponent — former CIA operative and Democratic newcomer Abigail Spanberger — would be a vote for "the Nancy Pelosi liberal agenda." He recycled the line in response to a question about immigration ("Look at San Francisco, the home of Nancy Pelosi — do you want to turn Richmond into San Francisco?"), and then again in response to a question on health care ("If you vote for my opponent, you will get the Nancy Pelosi agenda across the board").
By the time Brat invoked Pelosi for the 25th time, during his closing statement, Spanberger had finally had enough.
"I question if David Brat knows which Democrat he is running against," she said during her allotted response time. "I am not Nancy Pelosi, and I am not Barack Obama. Abigail Spanberger is my name. I am a woman who grew up in this community and I am committed to policies that make sense and are fiscally responsible."
Brat and Spanberger are locked in a tight race for the congressional seat that Brat won after his upset victory over House Majority Leader Eric Cantor in the 2014 GOP primary.
Throughout the course of the night's debate — the first and likely last for both candidates ahead of the looming Nov. 6 midterm elections — Brat also knocked Spanberger for the $3.6 million she raised in the last quarter, which, as the Washington Post previously reported, is more than he raised in his last two campaigns combined.
"They are trying to buy this election," Brat told the crowd of the massive fundraising haul.
At another point in the evening, the candidates sparred over Brat's false claim that the Post had given Spanberger four "Pinocchios" on an ad she had run about health care. In reality — as Post journalist Glenn Kessler later pointed out on Twitter — the ad Brat was referring to had been paid for by a Democrat in Pennsylvania and had no ties to the Spanberger campaign.
"Again, I would remind you that you are running against me," Spanberger said in response. "Not a Democrat in Pennsylvania and certainly not Nancy Pelosi."