Today in Trump's America: Judge dismisses Stormy Daniels' defamation suit against Trump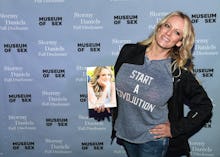 Happy Tuesday, readers. Emily Singer, your Navigating Trump's America guide here. It's exactly three weeks until Election Day, and we've yet to see a true October surprise. In 2016, it was the FBI's announcement that it was re-opening the Hillary Clinton email investigation. In 2014, it was the Ebola crisis that made it to the United States' shores. Both of those issues helped Republicans. We don't know yet if we'll get a surprise in 2018 or which party will be negatively impacted if one drops.
For now, Democrats are on track to win back the House majority, while Republicans are heavy favorites to keep control of the Senate.
Today in Trump's America:
• There are no public events on Trump's schedule.
About last night: Judge dismisses Stormy Daniels libel suit
A federal judge in Los Angeles on Monday dismissed adult film actress Stormy Daniels' defamation suit against President Donald Trump and ordered her to pay Trump's legal fees, Politico reported.
Daniels sued Trump for tweeting that Daniels' claim of being threatened in a parking lot in 2011 when she was talking about going public with her alleged affair with Trump was fake. Daniels had released a sketch of the man she says threatened her in the parking lot, and Trump retweeted an image with that sketch claiming the man looked like Daniels ex-husband.
"A sketch years later about a nonexistent man. A total con job, playing the fake news media for fools (but they know it)," Trump tweeted at the time.
On Monday, Judge S. James Otero said Trump's tweet did not meet the standard for a libel claim.
"The tweet in question constitutes 'rhetorical hyperbole' normally associated with politics and public discourse in the United States," the judge wrote in his order. "The First Amendment protects this type of rhetorical statement."
The judge also ruled that since Daniels lost her libel suit, the law "requires an award of 'reasonable attorney's fees' to the successful movant."
Daniels' lawyer, Michael Avenatti, said Daniels is appealing the judge's ruling to the 9th Circuit.
"Here is the Notice of Appeal we just filed with the Ninth Circuit relating to the defamation claim against Trump," Avenatti tweeted. "His record before the Ninth Circuit has been anything but good."
Today in Trump's America: Polling update
With three weeks left before the midterm elections, a slew of polls has been released that shows a mixed bag for Democrats.
In the House, the situation is looking great for Democrats, who must net 23 seats in order to take back control of the chamber for the first time since 2011.
Democrats have a 7.3 point lead on the generic ballot, according to the RealClearPolitics average. And FiveThirtyEight's model shows Democrats with a 6 in 7 chance of winning control of the House, with an average 40-seat gain. That amounts to a Democratic tsunami.
The Senate, however, is a different story.
While the national environment is good for Democrats and keeping their vulnerable incumbents in the hunt for re-election, the map of seats is so skewed toward Republicans that it's now looking like the GOP might actually pick up seats in the Senate in November.
That's because Democrats are defending vulnerable senators in states Trump carried by wide margins in 2016, such as North Dakota, Montana, Missouri and Indiana — making them tough territory for Democrats.
And the rest...
Smear campaign: Indicted Rep. Duncan Hunter is running an anti-Muslim smear campaign against his Democratic opponent, Ammar Campa-Najjar, falsely claiming his opponent is a Muslim terrorist who is trying to infiltrate Congress.
It all comes down to turnout: House Democrats are running new ads targeted to eligible voters who often don't show up in midterm elections. Turning out these low-propensity voters is key to Democratic success in the midterms.