Hype Daily: Kanye West gave the president of Uganda a pair of Yeezys and other entertainment news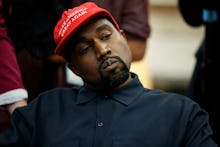 Hi everyone and welcome to Tuesday. Let's take a look at today's entertainment news, shall we?
Kanye West visited with Uganda's notoriously anti-gay president
Fresh off his visit to the White House, Kanye West is now on a trip to Uganda, where he is reportedly recording music and, apparently, meeting with Ugandan President Yoweri Kaguta Museveni. According to HuffPost, both West and his wife, fellow celeb Kim Kardashian West, met with Museveni, and West even gifted him a pair of Yeezy sneakers.
Museveni is, according to HuffPost, known for being a big fan of his U.S. counterpart, President Donald Trump. He's also notoriously anti-gay, having toughened Uganda's laws criminalizing homosexuality and called gay people "terrible," "disgusting" and "unnatural," according to CNN. But, you know, it's cool that he and Kanye West are friends now.
Ashley Judd's suit against Harvey Weinstein gets a 2020 court date
A court date has been set for 2020 in the defamation suit that actor Ashley Judd filed against disgraced media mogul Harvey Weinstein, Deadline reported on Monday. Judd filed the suit against Weinstein back in April, alleging he harmed her career by badmouthing her to other people in Hollywood after she turned down his advances.
Weinstein's team tried unsuccessfully to get Judd's suit tossed out, Deadline reported. Since that didn't work, they're headed to trial. This is all in addition to the criminal charges against him, by the way. In a statement to Deadline, a lawyer for Judd said, "We intend to move quickly to discovery and trial on behalf of Ms. Judd and look forward to proving Mr. Weinstein's outrageous conduct."
Transparent is returning as a musical without Jeffrey Tambor
Jill Soloway's heady Amazon family drama Transparent will return for a fifth and final season that will apparently end with a two-hour-musical — at least that's what Soloway seemed to indicate in a new interview with the New York Times. "It will hopefully feel like Jesus Christ Superstar mixed with La La Land mixed with Flight of the Conchords with something more Jewish thrown in," Soloway told the Times. "A little Yentl."
And, as Slate reported on Monday, former star Jeffrey Tambor, who was accused of sexual misconduct by multiple people involved with the production of Transparent, will not be a part of the musical-inspired final season.
Lizzo says she wants to play Ursula in The Little Mermaid
Hey, casting people of Disney, are you listening? After rumors began circulating that Disney was considering casting Lady Gaga to play Ursula in a live-action adaption of The Little Mermaid, a lot of fans were upset at the idea of a straight-size actress playing a character that was decidedly plus size in the original film — and also based on a famous drag queen.
Well, never fear, because singer and rapper Lizzo has graciously offered to play the part. "Just gonna put this back out there. IT IS MY DREAM TO PLAY URSULA IN THE LIL MERMAID," she tweeted on Sunday. Please make it happen, Disney overlords?
Put this on your radar: The Haunting of Hill House
October is the month for spooky shows and movies, and if your Twitter timeline looks anything like mine, everyone has been talking about the new Netflix horror series The Haunting of Hill House, which dropped on the streaming service on Friday.
According to the Netflix description, "The Haunting of Hill House is a modern reimagining of Shirley Jackson's legendary novel of the same name, about five siblings who grew up in the most famous haunted house in America. Now adults, they're reunited by the suicide of their youngest sister, which forces them to finally confront the ghosts of their own pasts… some which lurk in their minds... and some which may really be lurking in the shadows of the iconic Hill House." Sounds scary! Horror nerds, check this one out.
This has been Hype Daily, Mic's morning entertainment roundup. It's everything you need to catch up on in the entertainment world and what to look forward to today. Want to receive this as a daily email in your inbox? Subscribe here.